Holiday Clubs all you need to know ...
WHERE AND WHEN DO WE RUN OUR CLUBS?
Clubs run 10am to 3pm in these locations:
BRIGHTON & HOVE & DITCHLING
The Outdoors Project Basecamp @ The Macs Farm, Ditchling

(not during Xmas hol)

Lancing Preparatory College (Hove), Brighton & Hove
Cottesmore St Mary's Primary School, Brighton & Hove
Brunswick Primary School, Brighton & Hove

(not during Xmas hol)

NEW * Parkwood Scout Camp, Poynings, BN45

(not during Xmas hol)
BRISTOL
St. Barnabas Primary School, Bristol
The Ardagh @ Horfield Common, Bristol
LEWES DISTRICT
Baxters Field, Lewes, East Sussex
WEST SUSSEX
Goring C of E Primary, Worthing, West Sussex
The Globe Primary Acadamy, Lancing, West Sussex
Lancing Prep Worthing, West Sussex
St Nicolas Shoreham-by-Sea, West Sussex
St Mary CE Primary, Shoreham-by-Sea, West Sussex
LINCOLN
Burton Hathow Preparatory School, LN1 2BB
We have a great range of entertaining activities planned each holiday.
Ofsted Registered. Childcare. Vouchers accepted.
For more information on the day by day location, price and activity schedule and to book and pay online please choose your location;
HOLIDAY CLUBS - ALL YOU NEED TO KNOW
At our HOLIDAY CLUBS we can really get stuck into our most immersive and exciting activities. We know it can be daunting for children to spend a whole day with new people, that's why we always ensure they get a warm welcome and that we get fun and simple team games running straight away. Watching children's confidence grow and new friendships form during our holiday clubs is one of the most rewarding parts of what we do.
We have a great range of entertaining activities planned each holiday.
Our clubs are Ofsted Registered, and we accept Childcare Vouchers. (We cannot not yet accept Childcare Vouchers in Lincoln, we're awaiting Ofsted paperwork)
AGE: Clubs are suitable for children Age 5 (Yr 1) up to the age of 12 (for OFSTED purposes children need to be 5 years old AND IN SCHOOL YEAR 1. We recommend age 6+ at our Base Camp Macs Farm site in Ditchling, Sussex due to slightly wilder environment and longer walks for little legs. NERF Activity Days - we strongly advise Age 7+ for these days due to Nerf being of a more competitive nature. Please ensure your child enjoys this activity as it will be the main one of that day.
TO BOOK: Choose a location to see what clubs are running in your area, prices and the activity schedules. Book and pay online and a confirmation email with full details of your booking will be sent to you. Flexible booking - book for a day or for a full week.
WHAT WE DO We're all about playing outdoors whatever the weather, being silly, having fun, making new friends and learning some new skills! Every day is different, we run specific activities in small groups throughout the day - games, learning skills, communicating, making, playing & creating memories. A non-competitive environment, with activities throughout the holidays to suit everyone from the quiet and methodical to the louder and livelier. We encourage a supportive and happy environment where the children can build friendships, succeed at new tasks and feel relaxed in an open green space. We encourage physical "green" exercise throughout our gameplay to promote health and wellbeing.
A TYPICAL DAY 'FOR THE KIDS'
Clubs run from 10am - 3pm (We do not offer an early drop off or a late pickup service)
On arrival your adult will need to sign you in with the leader and we'll can check emergency contact details and any allergies or additional needs we need to know about to make sure your day with us is safe and fun.
Once signed in, you'll put your lunch in the designated area, wash hands and the children will join the instructors to play games in a bubble whilst all the children are signed in.
We'll introduce ourselves and tell you all about the plans for the day.
The children will be split into their bubbles for the day and will be asked if they'd like to switch groups to be with friends / siblings.
The instructors will stay with the group for the day, moving from activity to activity
There will be water and toilet breaks throughout the day and hand washing.
WHAT DO YOU NEED TO BRING? Packed Lunch & Water. Sturdy Shoes (no flip flops or Crocs and wellies encouraged in autumn & winter). Season Appropriate Clothing - Waterproofs, Warm Clothes, Hats & Gloves or Sun Cream & Sun Hat for Summer. A sense of adventure!
FIRST TIME WITH US? It's normal to be a little nervous on your first day but trust us when we say everyone who comes has SO MUCH FUN! All our instructors are really kind, friendly and there to make sure you have a good time. They love to show you how to join in and will make sure to introduce you to a new friend or two.
THINGS TO THINK ABOUT We love to accommodate everyone but please do make sure to check the activity for the day prior to booking and that it's a good fit for your child as to get the most out of the day. Once with us they will be expected and encouraged to participate in the planned activity all day so to avoid any disappointment please consider the activity you are booking them on is a good fit.
COVID PROCEDURES We will continue to follow the Government guidelines and update as required throughout the Summer.
Please see all of our Covid-19 procedures HERE
FOOD POLICY. Children will eat lunch in their bubbles. We ask children not to share lunches due to possible allergies within the group. Our Gazebos are set up and children sit with instructors and their friends for lunch. Children will be encouraged to eat their lunch at a sensible rate and what is comfortable for them. When our activity involves cooking on the campfire, we always provide alternatives for allergies and dietary requirements. Please alert the leader to any relevant information and medicine regarding this when signing in.
HOME TIME At the end of the day the children will be asked not to leave until they have been signed out to the pickup person named on the register (any last-minute changes to pick up, please do let us know or we may need to contact the named person before the child is released from our care). Please also ensure that the children take all their belonging's home with them.
STAFF All our staff are DBS checked, highly vetted, safeguard trained and we have first aid trained instructors at every club. Click on 'Meet the Team' if you'd like to take a look! All Holiday club will have a folder at sign in for parent information, like Ofsted registrations, insurance and instructor information if you wish to take a look.
HOW DO I BOOK & PAY? You can do this at our website. Hit the BOOK NOW button and follow the steps to register for the club and pay online, a confirmation email with full details of your booking will be sent to you. Prices may differ for locations, please see the Holiday Clubs page for more info
'ROAM' CLUB T-SHIRTS We do have our special club member t-shirts please email to enquire about purchasing . These are great for sewing patches onto!
SEN CHILDREN We are an inclusive club and fully promote the many benefits of time spent outdoors for all children. We do participate in organised activities and can operate a ratio of 1 instructor to 10 children during holiday clubs. If your child has additional needs, please do get in touch and we'd be happy to discuss further to advise whether the holiday club environment is the right fit. If your child receives one to one support at school please contact us before booking so we can look at whether we can offer the support required.
HAPPY CUSTOMERS ⭐️⭐️⭐️⭐️⭐️ Don't just take our word for it
BE FIRST TO HEAR WHEN CLUBS GO ON SALE Sign up to Newsletter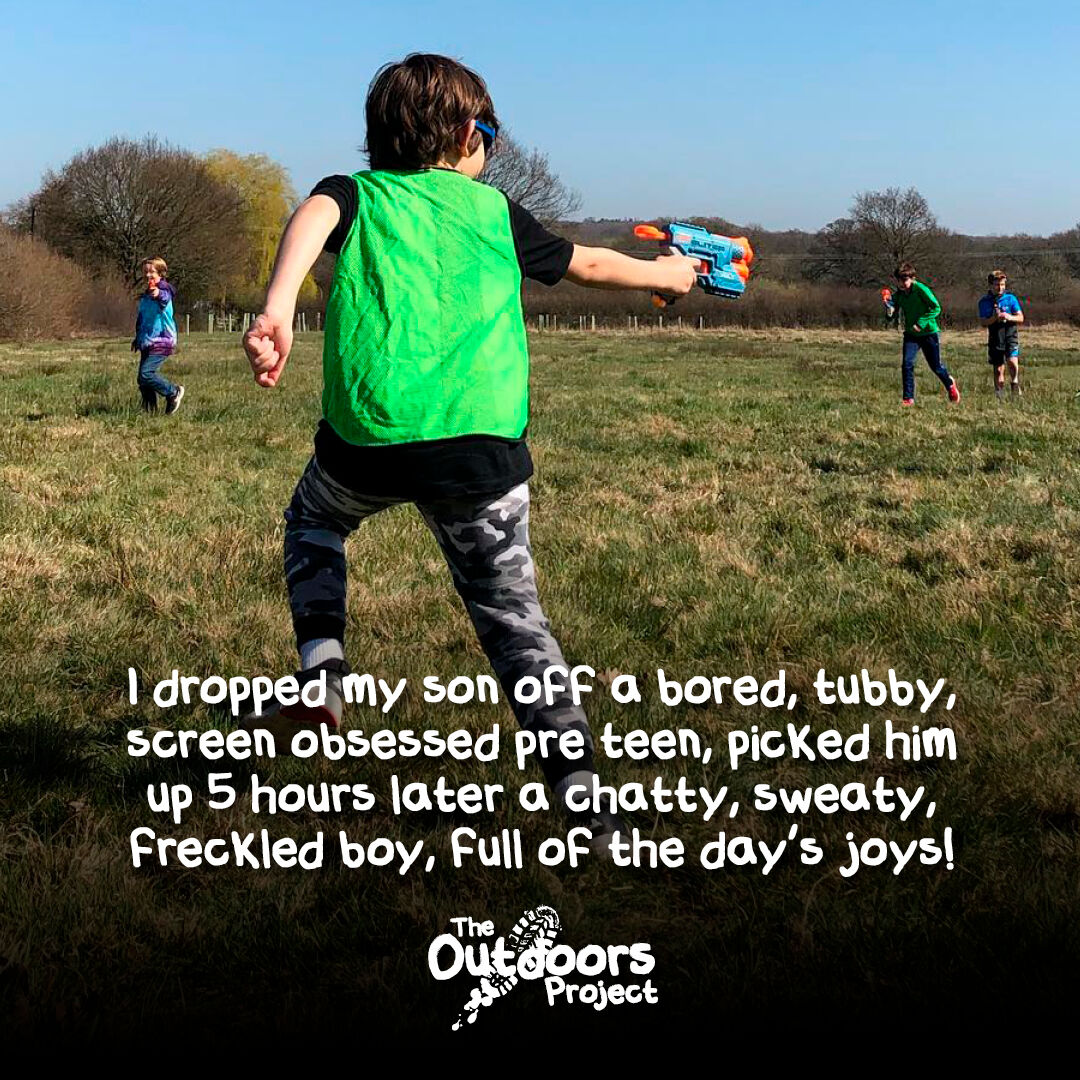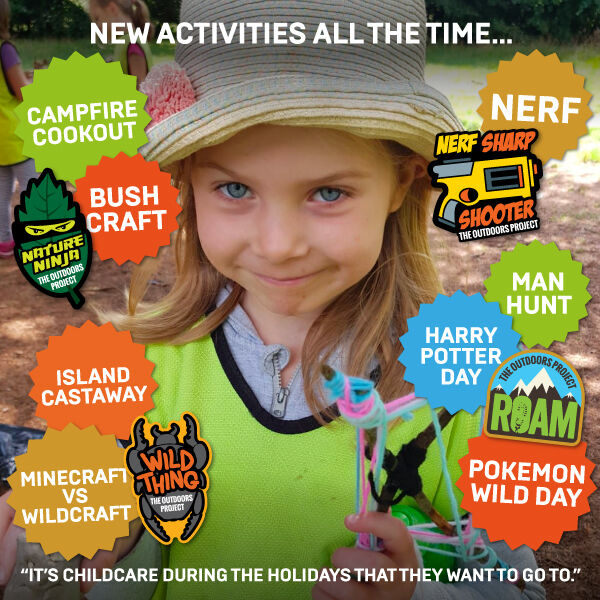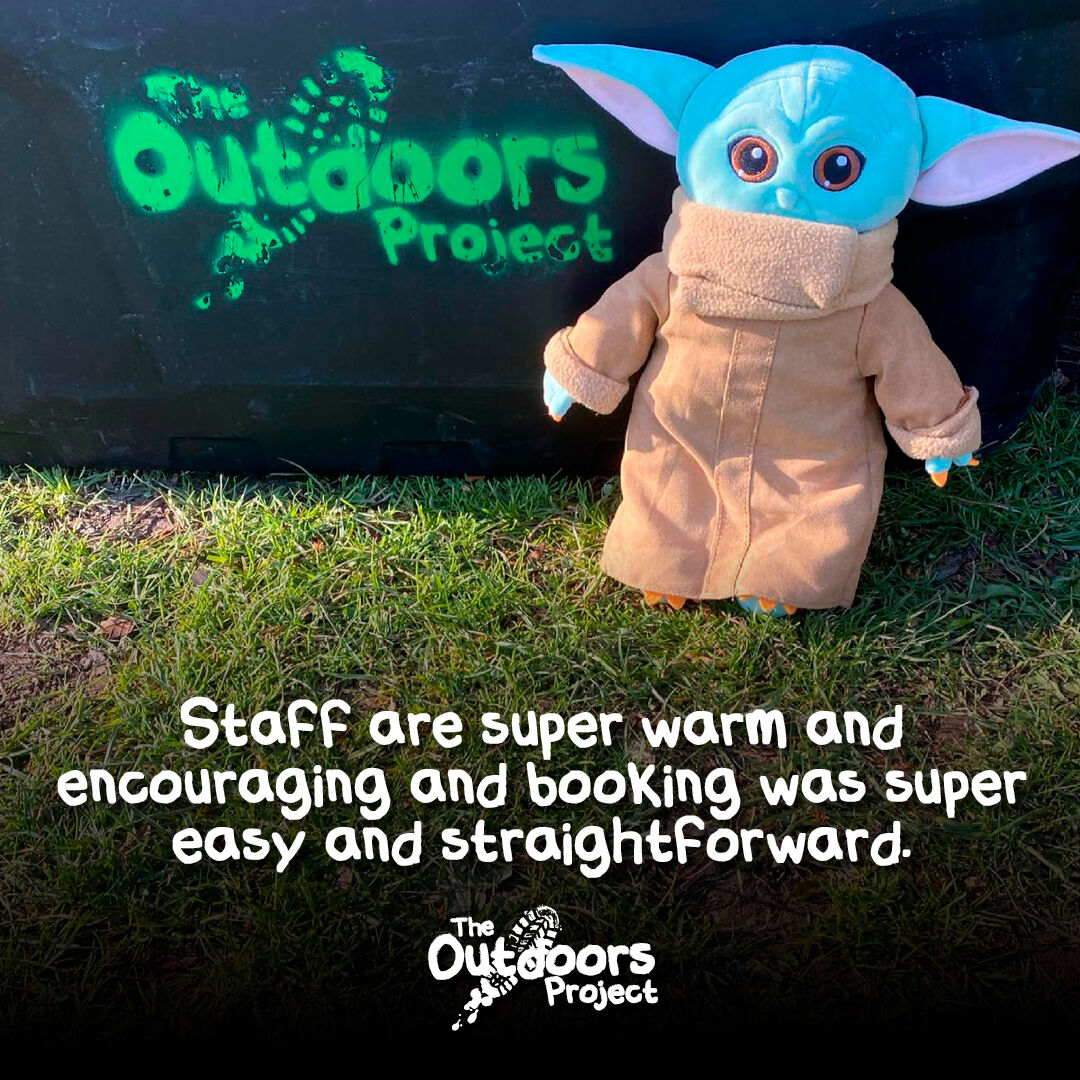 WHAT OTHER PEOPLE SAY -
It's childcare during the holidays that they really want to go to!
My daughter has been twice so far this half term and she absolutely loves it!!! Wants to go every school holiday! Lovely people running it and varied activities. She's completely knackered at the end of the day and that alone is worth the money! Will be booking again, 100%
It's outside, always, and involves no tech. They always come back with big grins, rosy cheeks, and a sense of fulfillment having crafted something with their own hands.
Best holiday club around.
The staff are very engaged and the most enthusiastic of all the holiday clubs we've tried!
Cannot recommend The Outdoors Project enough! My son loved it and asked if he can go on weekend as well !?
The variety of activities on offer is great. The staff are fantastic- enthusiastic, knowledgeable and in control. Doing outdoors physical activity has so many health & wellbeing benefits for my son.
I value The Outdoors Project because it is one of the only clubs my son asks to go to. It is superb because he is excited to go and would go most days if he could. It takes away some of the guilt about having to put your kids in holidays clubs because you are work, as he would choose to go if possible most days of the year!
It's Amazing! Social skills, leadership , always different themes, learn to be an individual!! "Best day of my life" according to my 6 year old son! Thumbs up from us!
It is fun and allows children to develop skills for life through teamwork, challenging themselves and taking risks. The staff are very encouraging and treat the children as individuals and get the best out of them.
Really nice staff, who clearly do the job because they enjoy it, and getting my child to socialise with different people, doing different activities than he normally would. Usually it's quite hard to get him to put down a book and go outside, but he really enjoys outdoors project.
My son loves the Outdoors Project! He is usually shy and reluctant to try new things but always has fun at the outdoors project. Infact, I think it is giving him a lot of confidence socially.
My kids love that it's different to any other club. Whilst being active it is not a sports club and they love being outdoors and able to get dirty and muddy in a safe environment.
My daughter is always happy to attend and although she doesn't always tell me what she's been doing, it always comes out in her play!
The children have loads of fun being outside in all weathers and come back with a big smile on their faces My son loves to play and be outside, he is always calmer and more centered after outdoors project
It is fun and allows children to develop skills for life through teamwork, challenging themselves and taking risks. The staff are very encouraging and treat the children as individuals and get the best out of them.
I love how the kids are encouraged to use their imagination and creativity in order to have fun. Isla always comes away having learnt something and even if it's been raining solid for 5 hours she's blissfully happy!
The admin team is well organised, strong communication, passion and belief in the job. All the staff are really professional and naturally friendly with the children, and obviously passionate about their work.
Confidence-building fun, loads of exercise and fresh air, teamwork emphasis and the much documented benefits of time spent in nature for mental health. What's not to love?
My daughter always comes out of the session happy excited and having done something new, she also enjoys the games The staff are all enthusiastic and energetic - don't know how they do it!
I love the holiday club themes are different daily and the venues are all easy to get to! My son loves that he gets to run around and play outside the whole day!
Just keep doing what you are doing, because we have a very happy son and therefore very happy parents. 100% of parents who answered our survey would recommend The Outdoors Project to other parents
Cannot recommend them enough! My son loved it and asked if he can go on weekend as well !?
Just returned from a day with the project and I am so pleased with the activities, staff, group size, well - every thing! I was fortunate enough to win the places but I will most definitely be taking the children again. Thanks guys, what you do and how you do it is awesome.
"Best day of my life" according to my 6 year old son! Thumbs up from us!
Someone else takes your kids out to get muddy and exhausted. What's not to like?