Adventure Kit Bag Challenge
Hey kids here's some wise words from Outdoors Project Instructor Connor. "Hi you lovely lot, sending big smiles, high fives and positive vibes your way! So I love to go off on an adventure from paddle boarding down the beach, camping in the woods to climbing in the mountains. I don't think I'd make it very far in just my slippers and dressing gown though, I probably need some trusty equipment to take with me! This is the perfect time to plan your expedition and think what you'd need in your "survival pack" for a good old fashioned adventure. I never go anywhere without Larry my toy Llama...what would you take??
WHAT YOU'LL NEED:
Every good adventurer needs a survival kit. These come in all shape and sizes! Here's your chance to build your own!
Ask yourself:
Where am I going? (Woodland, Desert, Mountains etc?)
What are the challenges I will face? (Extreme weather, wild rapids, giant mosquitos?)
What will make me comfortable on my adventure? (Warm clothing or a sunhat for example)
Will there be wild animals?
Will I get hungry or thirsty?
Will I get bored?

Ready steady GO!
Grab a bag, a backpack is best but anything will do.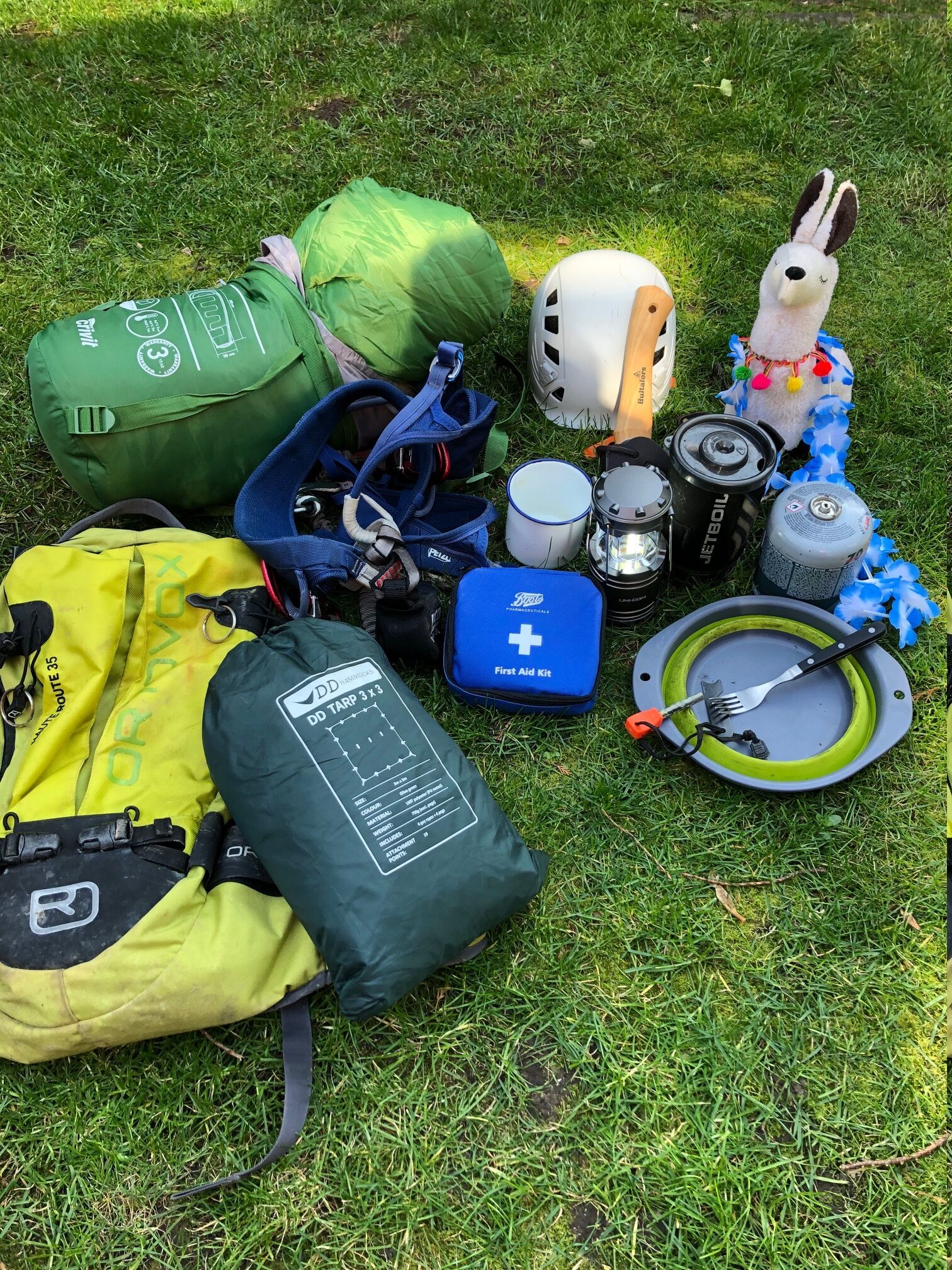 Now fill it with useful items for your chosen adventure, here are some of my suggestions:
My favourite book to read.
Some water.
A small snack or some fruit.
A torch, a compass, a radio for music
Larry the Llama or a favourite toy.
Some cards for playing games or my favourite board game.

Pack it with anything you like then send us a picture of your kits. Tell us what adventure you plan to go on and some of the top items you've chosen to take.
Above is a picture of my adventure kit bag, I plan on going climbing but it's missing some quite important items, can anyone guess what they are?

SAFETY TIPS: Please leave any potentially dangerous equipment out! Be sure to think what is lightweight and can be transported easily. As much as I'd love to pack my beloved piano for the trip I might not get too far...?
ANSWER TO YESTERDAY'S RIDDLE: "What travels round the world but stays in one spot?" A Stamp!
TODAY'S RIDDLE: If you've got me, you want to share me; if you share me, you haven't kept me. What am I?
OUTDOORS FACT OF THE DAY: If you lift a kangaroos tail off the ground it can't hop! (They use their tails for balance whilst hopping, so if you elevate their tail, they would have no balance and fall over.)
SEND US A MESSAGE. It's important to keep active and creative! If you have any activity ideas you'd like to share, suggestions on what you want to see here, favourite riddles or pictures of what you have been creating that you think will inspire us, we want to know! You might even get a shout out!

SHOUT OUTS
A big thanks for lovely responses! A couple of shout outs:
Adem for your awesome "Man Hunt" patch design, very cool!
Hester who emailed in an amazing and brilliantly colourful bug hunt patch design.
Ted who sent over an awesome spider bug hunt patch design!
Well done to Dexter, Adem and Gryff who guessed the riddle correct and thank you to Eve and Emilie who also emailed in some very good guesses!
Eve your Den was ace! Thanks for sending in the photo :)
Keep them coming, if you have any pictures to share from your Den builds then please do, we'd love to see them.
Adventures can be calm as well as exciting. Keep the adventures going whether in your home, garden, room or mind they're all out there, you just have search, use imagination and get creative!
"If you never did you should. These things are fun and fun is good." Dr Suess
Find all the fun things to do in one place here:
https://www.theoutdoorsproject.co.uk/news/
The Outdoors Project Team