Christmas Rewards Workshop
We had a lovely final week of term being invited to run a Christmas themed rewards workshop for Lancing Preparatory College Hove. We run afterschool clubs for years 1 to 6 along with Holiday clubs at Lancing throughout term, so it was great to be able to put on a day of activities for their end of term House Rewards Day.
With the sun shining on a crisp December day we lined up the activities for years 1 through to 8!
KS2 & KS3 (Years 3 - 8)
Some outdoors cooking was on the agenda first with gingerbread syrup and S'mores! The groups mission was to learn how to build and light a good fire lay for cooking on. Whilst children were busy sourcing their fuel and building their fire lay, the others in their group set to work crushing and grinding up the ingredients for their gingerbread syrup! Using pestle and mortars they crushed up ginger, cinnamon and mixed it in with sugar. Once the fires were lit and steadily burning away, we got the skillets on and the ingredients in the pan. That meant only one thing… S'mores time but with a TWIST! Ever had a S'Moreo?? Well you simply must! Take an Oreo, gently twist it open, toast your marshmallow and squish it in between the Oreo – Delicious!
Once the S'moreos were toasted and the gingerbread sauce was cooked, it was time to dig in! Homemade treats around the fire, chatting away, laughter and fun shared with classmates under the giant conifer tree. Perfect!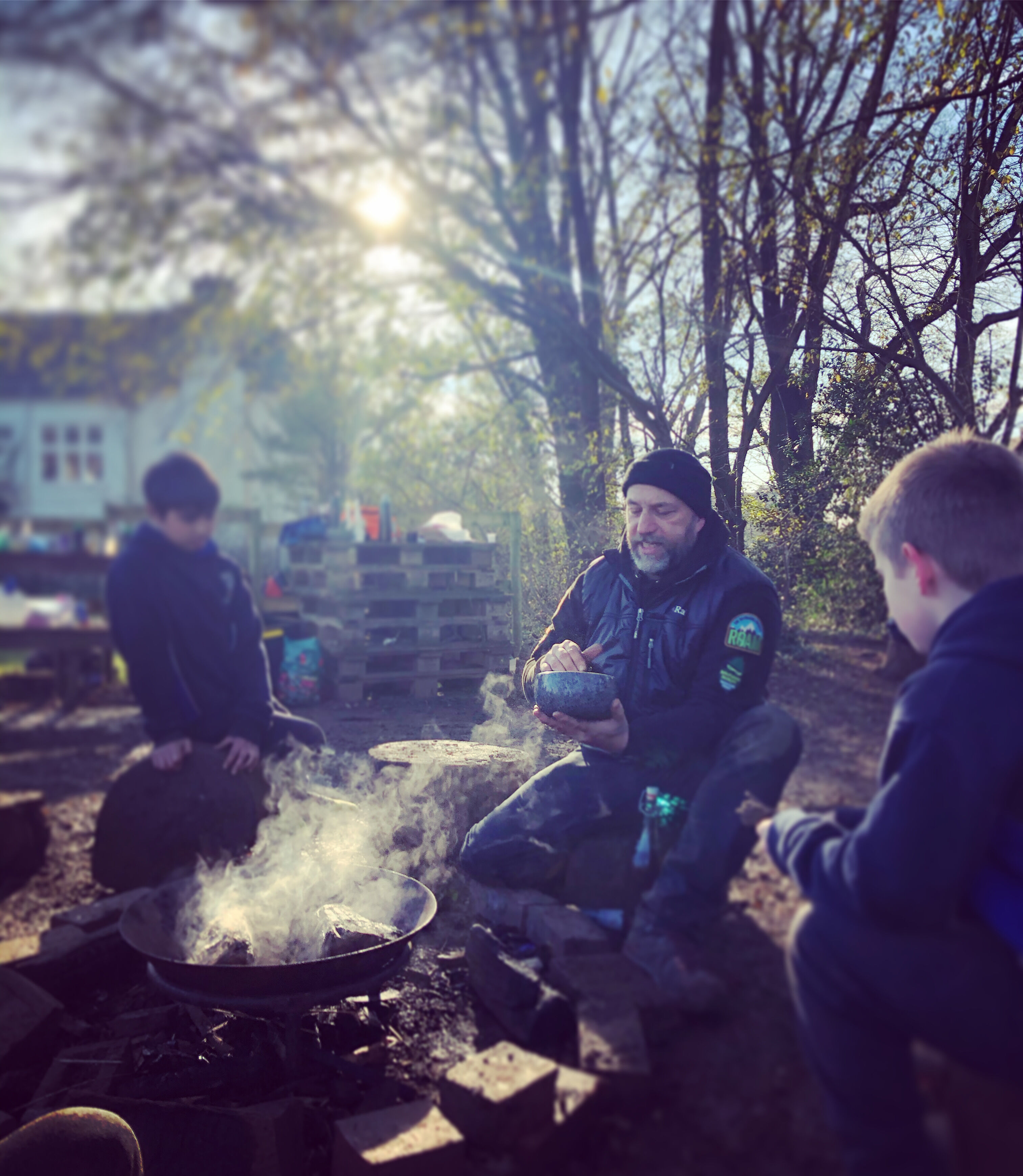 Time to burn off some of that energy and head to the Christmas Grotto Dash! In your teams your mission is to build the best Christmas grotto you can! However, all the good stuff is laid out on a tarpaulin and you can only take one item each…oh and it is a relay race so only one at a time…oh and you have no idea what's on the tarpaulin either! Line up, on your marks, get set, GO! Once the team comes back together they can decide who got the useful stuff i.e. the tent pegs, mallet, rope and Christmas tree or they can look at their fellow teammates questioningly at why they picked up the rubber duck and singular piece of tinsel in that heated moment. That's all part of the fun, now to build something Santa would be proud of yes the instructors are here to help!
EYFS & KS1
For these young outdoors enthusiasts we based our rewards session around craft and outdoors play. Warming up with some nature colour touch games and "1,2,3 where are you", we had everyone running around, warming up and smiling in no time! Especially on a crisp day, where being outdoors during the colder months is more of a challenge for younger ones so keeping the session active helps keep that blood flow and build up that outdoors cold weather resilience.
Once we were all warmed up we went into some nature craft making flower fairies with clay and natural treasures found in the area to decorate with. Clay is a lovely sensory activitity, filled with imagination as you search with friends for the many colours you can decorate with from Conifer leaf hairstyles to charcoal noses. Once our crafting was done it was time for some hide and seek games to finish off our time outdoors.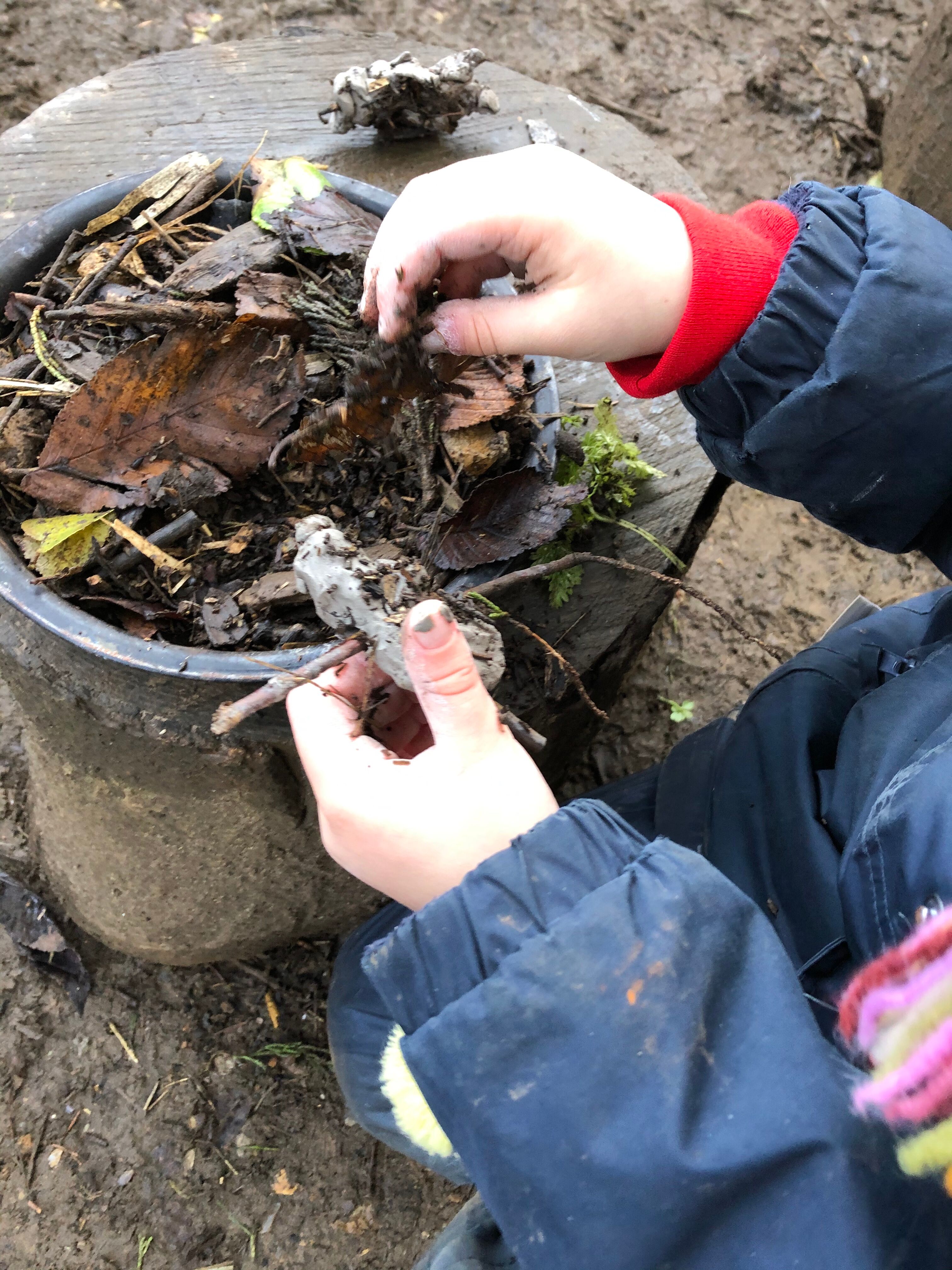 A lovely time had by all year groups and everyone was sent away with smiles on their faces after a lovely day spent enjoying outdoors with peers. The children employed a lot of practical and interpersonal skills in the session spent with us from teamwork, materials craft, tools use, coordination, outdoors leaning, fire skills and outdoors cooking. There was a lot to learn and gain from the day but it was all delivered in a light hearted and rewarding way, not feeling like work at all.
We run a variety of workshops from rewards days such as these to curriculum-based days such as Viking and Stone age to teambuild and outdoor play sessions. The aim is to bring history to life, use many different skills and get hands on outdoors!
For more information click here