Join us on our mission. The Outdoors Project franchise opportunity
Turn your passion for the outdoors, nature and the education and wellbeing of young people into a thriving business.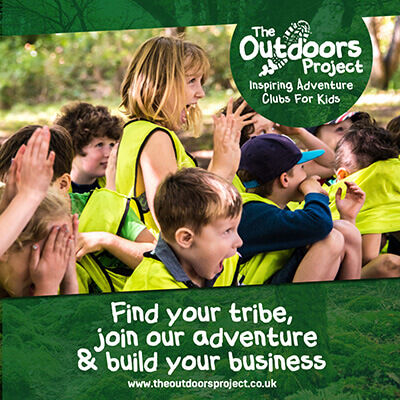 We are excited to announce that The Outdoors Project is expanding. We love what we do, receive fantastic feedback from our customers and are very confident that there is demand for our 'product' - regular, accessible, affordable, outdoors fun for children in a safe and supportive environment.
We are particularly keen to find partners in these areas: Surrey (Guildford / Woking), Kent (Canterbury, Maidstone, Margate, Tunbridge Wells, Sevenoaks, Hastings), Hampshire (Southampton, Portsmouth) Dorset and London. Interest from further afield is good too!
Our mission is to encourage kids to spend quality time outdoors and gain all the benefits from doing so! Fresh air, exercise, developing friendships, learning about nature, engaging in "wild time", exploring creativity & imagination, learning new skills and above all having fun!! We run After School Clubs, Holiday Clubs, Parent & Toddler Groups, Birthday Parties, School Workshops and Group Activities at campsites and private events.
Our Brighton & Hove HQ has been running for 8 years and we have so far welcomed over 10,000 children to our clubs in schools, local parks and far out fields. Our first two franchises in Bristol and West Sussex have proven that the business model works and that there is demand for what we are offering.
Over the years our team have created our 'how to' bible; how to approach new business, where to run clubs, how to run activities and all the bits in between. Our regularly updated policies and procedures documents cover all elements of the business (including Ofsted registration). At the core of the business we have a custom built online booking system. a constant stream of fresh activities (with kit lists, training and step by step how to run guides) and our very personal approach to how we recruit, train and retain our staff.
We are ready to share all this knowledge to help others create their own enjoyable and rewarding business.
What our Franchisees say about us:
"When I heard there was an opportunity to take on a franchise it just seemed to make so much sense; here was a business completely in-line with my personal interests and goals, which operates with a social conscience and has been proven to be commercially viable.
My experience as a franchisee is feeling the autonomy of running my own business combined with the comfort of knowing I can access support from an experienced HQ team when I need it. It's an exciting adventure without a blind leap into the unknown, and it's the best decision I ever made." Rob Cruise (West Sussex Franchisee)
"I have found buying a franchise a huge benefit, as so much of the ground work has been done for me, enabling me to start up the business quickly and start earning money without having to go through lengthy and costly trials and errors. All procedures, branding, systems and paperwork were all in place so that when I started it, I really hit the ground running and had 5 full clubs within the first month of trading; with all staff having uniforms, schools having brochures and very thorough paperwork in place.
Going forwards I get a lot of support and advice on best practices and marketing. I get gently nudged in the right direction but am free to choose how to run my operation and in what direction" Rowan Hibbett (Bristol Franchisee)
contact: sam.smith@theoutdoorsproject.co.uk for more info