Summer Holiday Clubs Week 5 - Take a peek!
The rain last week made for some very muddy faces, rosey cheeks and lots of excitement!

The Nerf Wild West Day went down a storm. The kids at The Mac's Farm were very good at Cowboy accents - Yeehaaw!
At our Minecraft vs Wildcraft Day at Brunswick the kids were split up into groups for the 'element hunt'. Despite the theme of the day not being food related, one team requested to be called "Butter" - so we ended up with teams butter, apple, carrot and donut...
We also had a spontaneous dance off. The kids were getting very involved by clapping, cheering and scoring each dance - One of our instructors just had to get involved!
This weeks Water Day at Parkwood involved lots of giggling. We had some very creative bottle rocket designs. The launching of the 'DISCO bottle rocket' (colourful rocket with disco ball attached) involved the team chanting "80's never dies!"
We also had a great game of pass the bomb (water balloon) - when the music stops, those holding the water balloon have to explode it over their head. There was much hilarity as the kids desperately passed 'the bomb' around the circle. See picture below.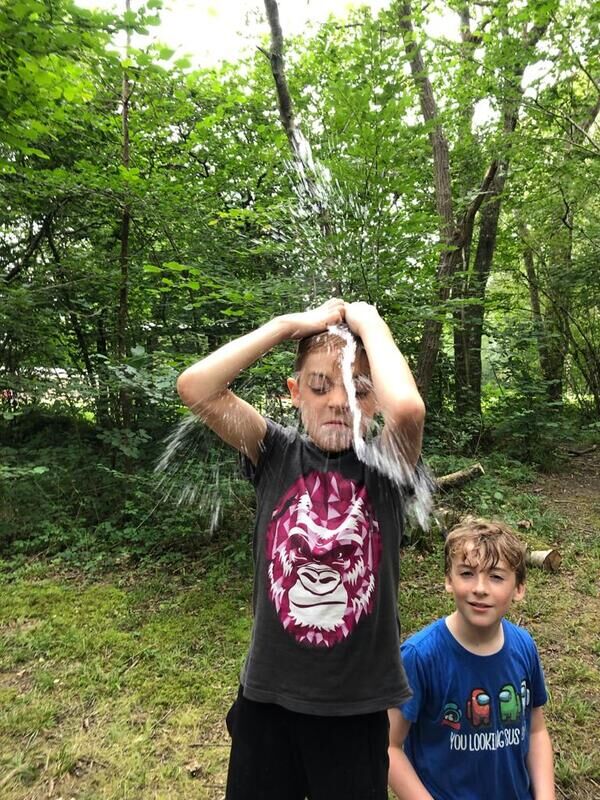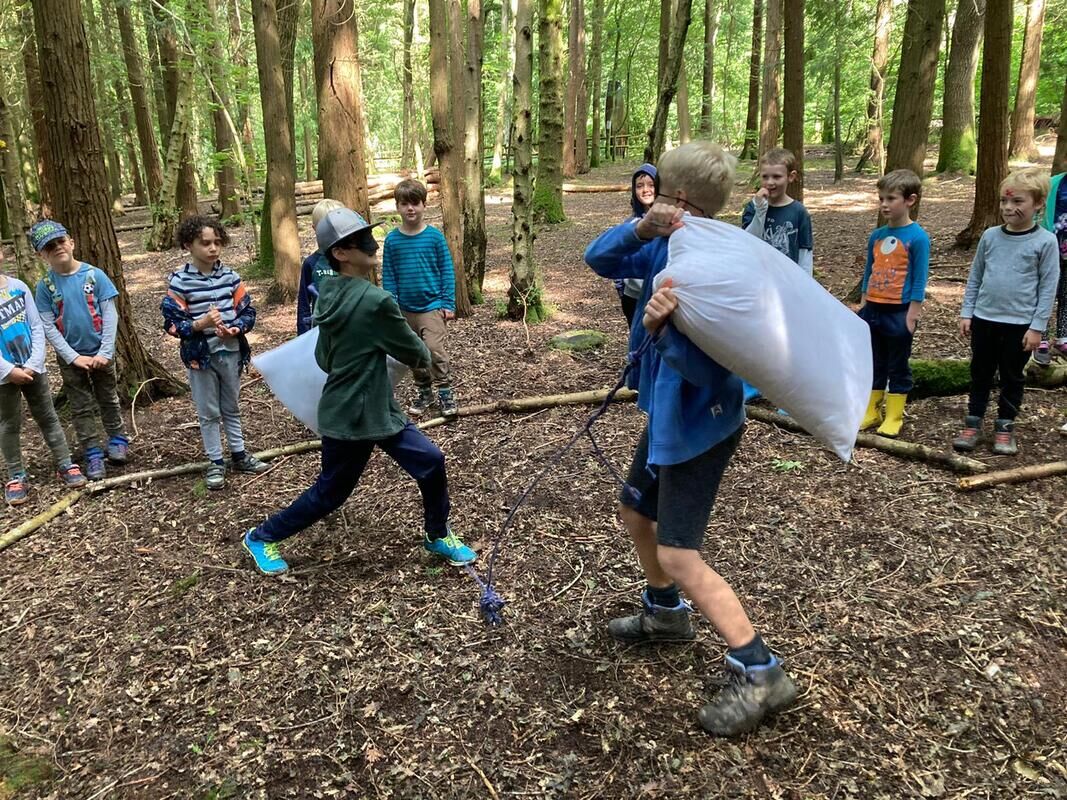 If they loved the Man Hunt Day we think they'd also love...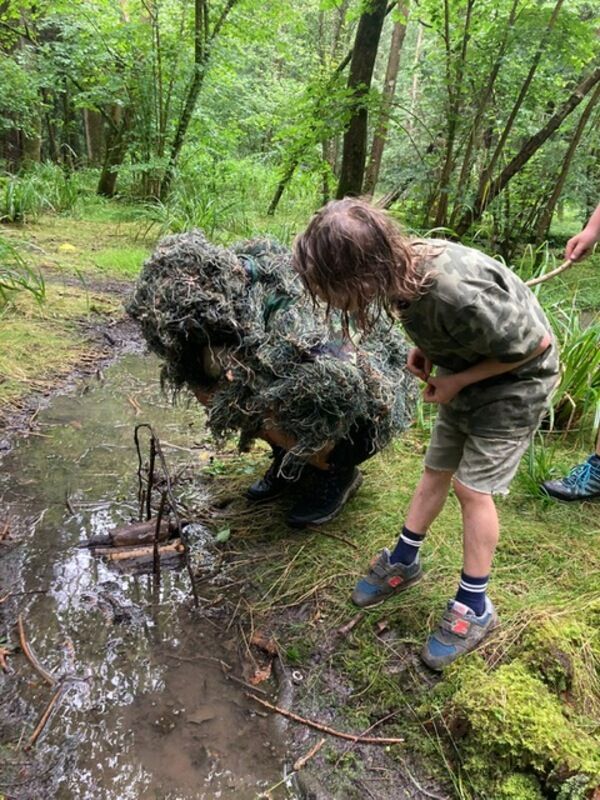 Going on a Yeti Hunt!

Join us on an outdoors adventure and find out more about the mysterious yeti.
We'll learn stalking and tracking and making foot moulds of this great beast!
We'll also learn how to build humane traps and create the Yeti's favourite treats in an effort to lure them out from their lair.
If we succeed you'll have a chance to meet this gentle beast...
If they love Arts and Crafts we think they'd love...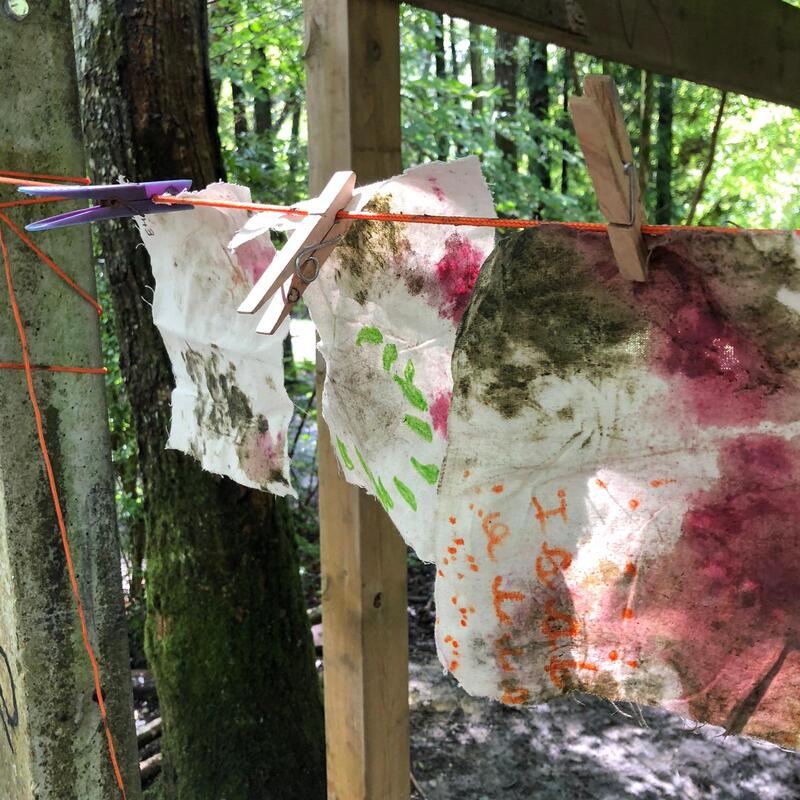 Being a Nature Ninja!

This day is full of crafty activities for your budding artists and nature lovers.
We'll make a hanging Suncatcher using flowers and leaves - a kaleidoscope of summer colours!
We'll make natural dyes and try out cave painting like our ancestors did, then we'll go on a bug hunt to see who calls our woodland home.
We'll try Hapa Zome - a Japanese term meaning 'leaf-dye.' We'll forage for exciting materials and then use wooden hammers to release their natural dyes, creating beautiful patterns and designs.
If they loved Star Wars Day we think they'd love...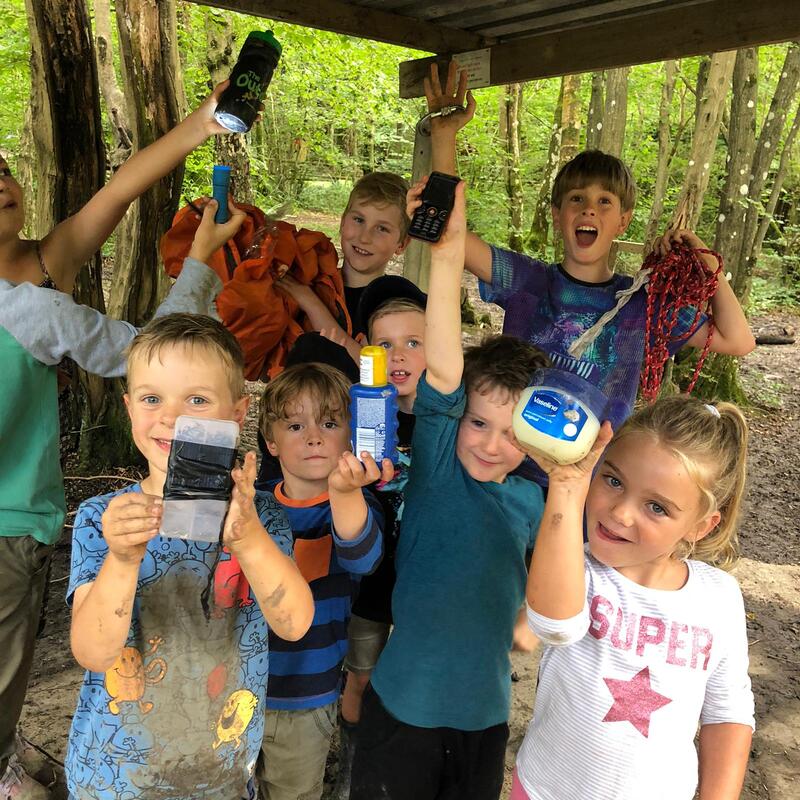 The Desert Island Survival Challenge!
This day is full of fun challenges that tests different skills and techniques.
We'll be taking on the hot and hostile conditions of the Desert and playing the survival equipment dash game
We'll be learning how to find water using ancient methods, and building water filtration systems.
We'll also learn about sun navigation and how to use solar fire-lighting techniques.
Huge thanks to those of you who have left a review, these are shared with the whole team
CUSTOMER REVIEW BY EIMEAR M LEFT ON 6 AUG 2021 VERIFIED REVIEW
I never saw a child get up, dressed and out through the door so fast when he knows it's The Outdoors Project day! He comes home with a beaming smile and tales of his adventures!
CUSTOMER REVIEW BY PAOLA R LEFT ON 6 AUG 2021 VERIFIED REVIEW
Staff are best by far in the industry. Polite and caring approach. I appreciated their professionalism while kids appreciated the fun activities
CUSTOMER REVIEW BY MICHELLE M LEFT ON 10 AUG 2021 VERIFIED REVIEW
My son always has a brilliant time when he goes to the Outdoors Project, it's been hard finding holiday clubs he enjoys as he can be quite shy at first in new settings but he LOVES Outdoors Project, so much so he even wakes up early on the days we have booked! Fantastic, fun and original childcare for active little people!
CUSTOMER REVIEW BY CHRISTINA L LEFT ON 9 AUG 2021 VERIFIED REVIEW
Parkwood Scout Camp. Great location. Staff and very helpful, visible and friendly. The activities are fun and great for all ages. Booking process was easy and straightforward and I have recommended it to other mum's.