Summer Holiday Clubs in Lincoln
Preparations are in full swing for our summer holiday clubs! We just can't wait to kick off our 8 week summer holiday schedule.
This summer we have put together our biggest lineup yet. 15 themes with some new days, some of our most popular days back with a new twist and a few from our series editions. Nature Ninja, Bushcraft, Nerfageddon and Campfire Cookout are all series days: returning with BRAND NEW activities under the same title every holiday!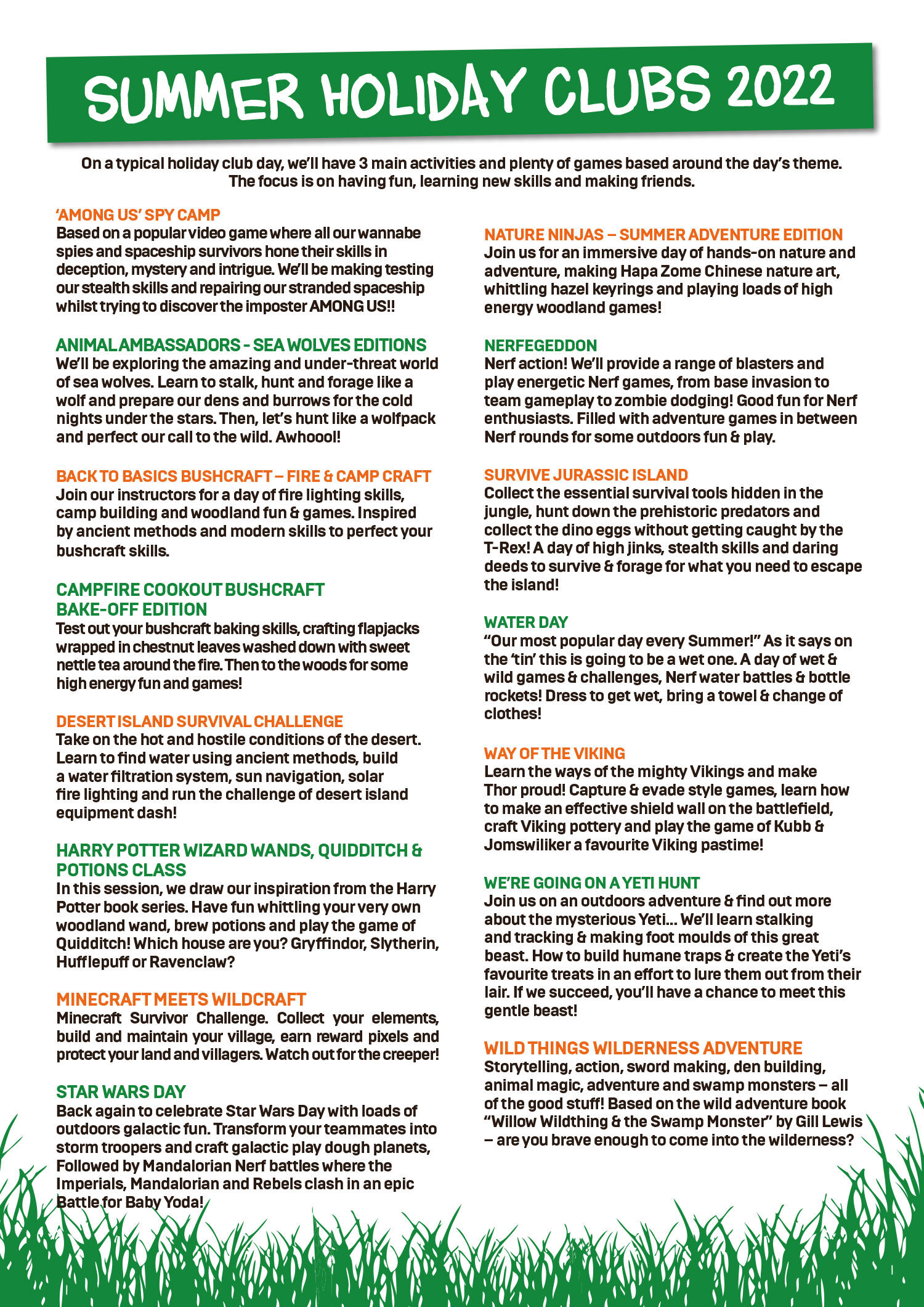 What do the kids do all day?
We are always creating and developing new games, making sure every day is different and enticing to all personalities. Each day is presented with a theme. Each theme day is carefully planned beforehand keeping in mind our main goal which is to have fun!
Our sessions are divided into 3 main sections with breaks in between. We work in small groups with two instructors who will stay with them throughout the day. Children can stay with siblings or friends if they request.
We do understand how difficult it is nowadays to get the kids away from screens and this is where our tech days come in. We have Minecraft and Among Us theme days where elements of the game are brought to life. But are they still learning things? Of course! Children who come to our clubs are going to leave with new experiences and skills every time. Building dens, making fire, survival skills are just some of them.
Children will also learn teamwork, determination and problem solving skills on our NERF days. Creativity, imagination and literature on Wild Thing Wilderness and Harry Potter days. History and general knowledge on Way of the Vikings and Survive Jurassic Island.
To read more about our holiday clubs click here.
Over 100 5 Star Reviews and Counting...
CUSTOMER REVIEW FOR THE OUTDOORS PROJECT LINCOLN BY EMMA M LEFT ON 6 JUN 2022
My son had two more fantastic days at The Outdoor Project during May half term. He came home with lots of tales about the day and how much fun he had. He will definitely be back again in the summer holidays.
CUSTOMER REVIEW FOR THE OUTDOORS PROJECT LINCOLN BY KIM W LEFT ON 31 MAY 2022
My son has never wanted to participate in holiday clubs as he is nervous and didn't know what to expect. I talked him into trying the outdoor project as he loves all aspects of the days set out. He went today for the first time with his friend and the first thing he said when I collected him was 'when can I go again' I'm over the moon he's had a fab time and can't wait to return!
CUSTOMER REVIEW FOR THE OUTDOORS PROJECT LINCOLN BY JOANNA B LEFT ON 30 MAY 2022
Our boys had a great day, same everytime they've been to a holiday club with you. Great staff and great activities - thank you