THE OUTDOORS PROJECT CHILDREN ACTIVITY FRANCHISE BUSINESS MODEL
Does your local area need to encourage young people to explore nature and get active?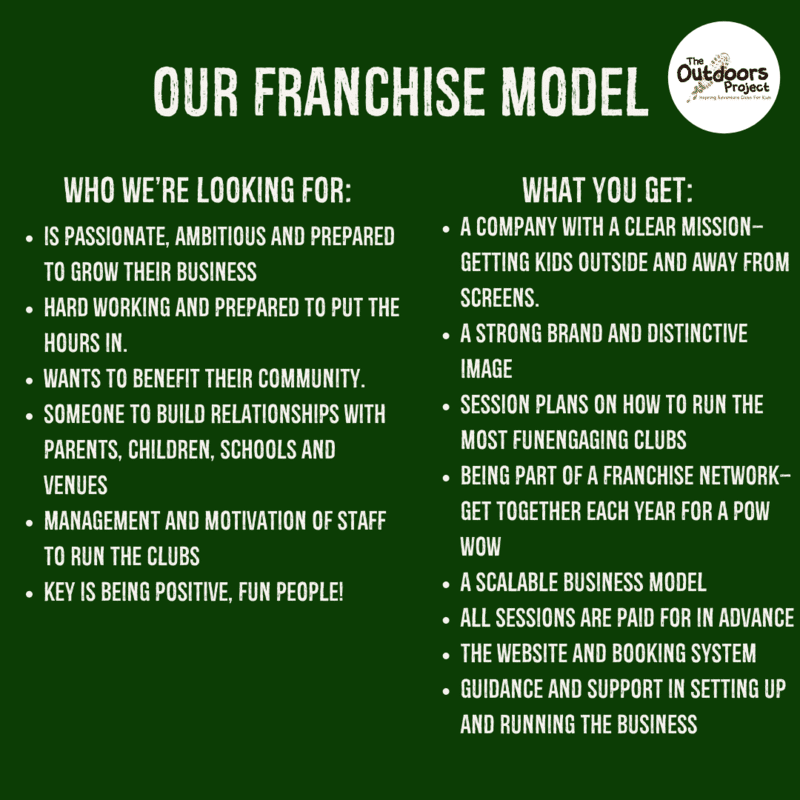 WHO WE'RE LOOKING FOR:
Is passionate, ambitious and prepared to grow their business
Hard working and prepared to put the hours in.
Wants to benefit their community.
Someone to build relationships with Parents, Children, Schools and Venues
Management and motivation of staff to run the clubs
Key is being positive, fun people!
WHAT YOU GET:
A company with a clear mission–getting kids outside and away from screens.
A strong brand and distinctive image
Session plans on how to run the most funengaging clubs
Being part of a franchise network–get together each year for a Pow Wow
A scalable business model
All sessions are paid for in advance
The website and booking system
Guidance and support in setting up and running the business
ENQUIRE NOW
Email: franchise@theoutdoorsproject.co.uk