After School Clubs - What parents need to know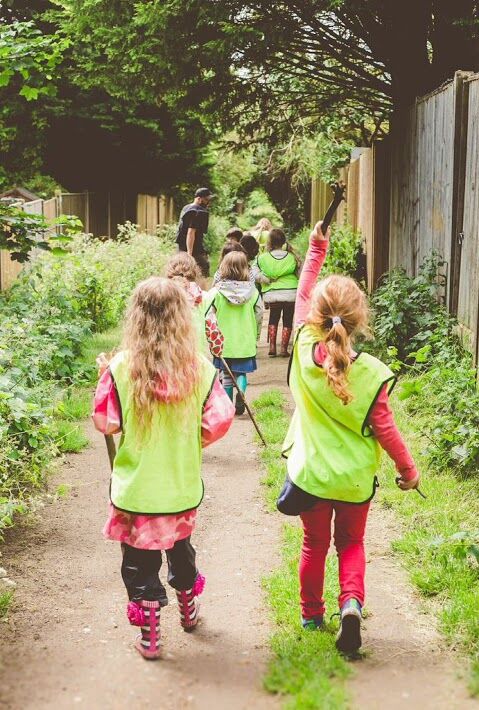 We're a year-round, all-weather business, and although we occasionally get a raised eyebrow or a look of mild alarm from a parent or teacher when we explain that, "yes, we are still going outside in this", the kids don't care and neither do our wonderful instructors. So yes, After School Clubs are on all year, every term, whatever the weather (as long as it's safe).
We have new activities every week and every term, however we also have an enormous back-catalogue of games to draw on so when the weather is cold and/or wet we'll tweak a session to make sure the kids are moving around more.
HOW, WHERE, WHEN, WHAT?
Where?
Select your location to see the list of schools we're currently active at.
Clubs run directly after school, usually on school premises or sometimes in a close-by green space for around 1 hour (check the individual club details for your school, as times differ).
Who?
Clubs are open to children in Year 1 to Year 6 (not Reception class). Some clubs are open to specific year groups, some are mixed. Please check your specific school's club for details.
Booking info
To make a booking, select your location and then select your child's school. Click through the 'book now' buttons and make the payment.
Clubs are Ofsted Registered & we accept Childcare Vouchers.
Bookings are taken online for a whole term. If there are spaces, we are happy for children to join mid-term and prices are amended weekly online to reflect the missed sessions.
Please sign up to our newsletter to be the first to hear as clubs go on sale.
Booking for next term tends to open a term in advance. Activities will change every term so our long-term members continue to gain all new experiences and skills.
Book & pay online and you will receive a confirmation email with all the details you need for the club.
What & how?
A TYPICAL SESSION
Activities: Every week is different and based around a running theme, always involving games, learning new skills, communication & teamwork, crafting, creativity and lots of outdoor play. A non-competitive "just for fun" environment, with something for everyone from the quiet and methodical to the loud and lively!
Each school has a club meeting point in the school playground. Please check your booking email confirmation for the meeting points and parent pick up locations for the club. We refer to the meeting point for children to come to us as "BASE CAMP".
Infants and Junior Clubs at the same school often have different meeting and collection points so please read carefully.
Registers are sent to the school office so they know who should be attending the club.
All our staff are DBS checked and we have first aid trained instructors at every club.
KS1 (Yrs 1&2) will either be picked up by instructors or the teachers will bring them to the meeting point. KS2 (Yrs 3-6) usually come straight to the meeting point from their classroom, this differs per school.
Each club has a Lead Instructor and an Assistant Instructor.
As everyone arrives they will be signed in by the Lead instructor. This is an opportunity for children to grab a snack from their bag, go for a toilet break, and put on appropriate clothing. Please pack a snack for your child if you think they'll need one by then, and also appropriate outdoor clothing, depending on the weather.
Should a child not arrive, the instructor will check with the office to see if they are accounted for. Parents will be called if the child is expected at the club and there is no absence note. This is a time-consuming process and we take it very seriously so please do let us know if your child will not be attending the club that day to avoid this.
Once everyone has arrived, the session commences with the activity for the week (FUN TIME!).
Home time: The pick up point at the school is communicated in the booking confirmation. Children will be signed out to the parent or carer named on the register. Any last minute changes to pick up such as family friends, please do let us know prior so the information can be passed on or the instructor may request to contact the named parent to confirm before they can release the child from their care.
BEHAVIOUR
We want everyone to enjoy themselves and to go home with smiles after having plenty of fun with friends as well as learning a new skill or game! However, time is limited and in order to maximise everyone's enjoyment of the session, disruptive behaviour is not tolerated. Disruptive children will receive warnings and may be timed out for a very brief period. If the behaviour is consistent then the instructor will speak to parents at the end of the session.
Some equipment we use in the clubs can carry an element of risk if misused (e.g. fire lighting / whittling). A safety demonstration is always given, and it is ultimately up to the instructor whether the group or certain children will be allowed to go ahead with the activity on the day. If the children have not demonstrated they can use the equipment responsibly and risk causing harm to themselves or others, then the activity will have to be stopped and the instructor will play games instead.
We operate a three-strike policy in which extreme behaviour, such as aggression, bullying or misusing equipment, will result in a "strike" against the child's name. Parents will be informed after a strike is issued and if three are issued over a term then we will be forced to ask that child to leave the club.
We ask for your support in ensuring we can work to resolve negative behaviour and encourage children to enjoy and participate fully in the activities, for us to maintain a fun and safe environment for all!
WHAT DOES MY CHILD NEED TO BRING? A sense of adventure! We do not ask the children to change clothes but bring suitable outer layers for the season – waterproof jackets, warm clothing in winter, sturdy shoes or sun cream and a hat if summer time. Some children come with a snack and water as there is time to eat this at club sign in. They'll also need their stamp card (see below).
REWARD CARDS & PATCHES Each member of the club receives a reward card which earns them points each time they attend. When they get to 10 points they recieve a special outdoors project patch! The patches are iron on but we do advise sewing them if you put them on clothing. They'll be a designated patch to earn per term which will be shown to members.
ROAM CLUB T-SHIRTS We do have our special club member T-shirts which are available through the office to purchase. These are great for sewing patches onto! We will hand these directly to children in the club when purchased.
OUTDOOR PROJECT CLUB AMBASSADOR AWARD Each term our club leaders will choose children at the club to recieve a special patch and certifcate for passion, politeness and resilience during the term.
SEN PUPILS We are an inclusive club and fully promote the many benefits of time spent outdoors for all children. If your child has additional needs please do get in touch and we'd be happy to discuss further to advise whether the club environment is the right fit. If your child receives one to one support at school, please call before booking as we need to ensure we have the correct support in place.
Read what we've been up to: Spring Term 2023 After School Report
WHAT OTHER PEOPLE SAY
"I am extremely impressed with the programme and how it is organised. My child LOVES it"
"Knowing that every Wednesday my son gets to run around in the fresh air, playing team games, making things, learning skills, exploring nature and ultimately being active outside like kids should be, is so important and why I value the club and why my son loves going"
"The staff are all professional, kind and caring towards the kids and dedicated to the cause!"
"Very well organised - both boys always want to go and to continue each term"
"The club is well structured and all children have fun. Good feedback from staff to parents about any issues relating to your child"
"My daughter gets to try new things and develop new skills. She has also made a wide circle of friends outside of her class"
"The Outdoors Project has helped my son build his resilience and confidence"
"The children have loads of fun being outside in all weathers and come back with a big smile on their faces"
"My son loves the Outdoors Project! He is usually shy and reluctant to try new things but always has fun at The Outdoors Project. In fact, I think it is giving him a lot of confidence socially"
"I really value the variety and opportunity each week. The positive vibe and support from the staff"
"The club teaches good skills and encourages team work. It is well supervised"
"It's Amazing! Social skills, leadership, always different themes, learn to be an individual!!"
100% OF PARENTS WHO RESPONDED IN OUR RECENT SURVEY WOULD recommend The Outdoors Project to other parents/schools!