We just wanted to take a moment to say a big thank you to those of you who have completed our 2021 Customer Feedback Survey. If you haven't completed the survey yet, please could you take 3 mins to complete our BRIGHTON CUSTOMER FEEDBACK SURVEY. As an added incentive, we will draw one lucky name out of the hat to WIN A £500 THE OUTDOORS PROJECT VOUCHER to spend on clubs in 2022.
As ever thanks for your support this year.
OUR TOP SURVEY HIGHLIGHTS SO FAR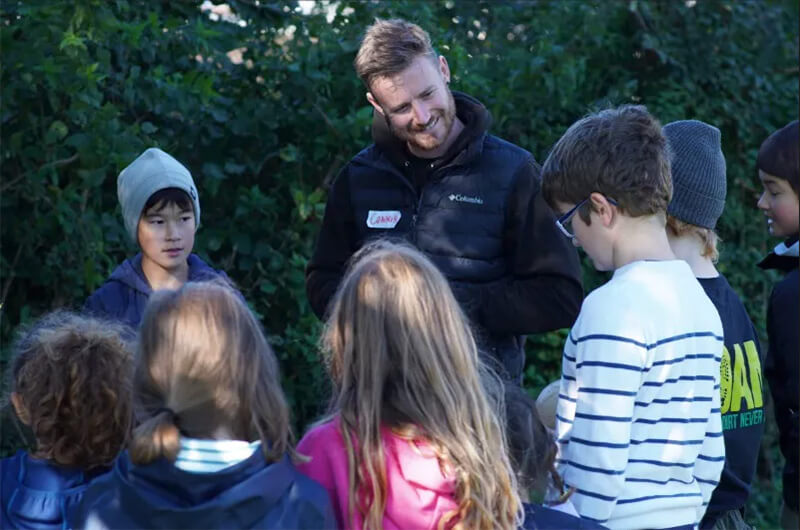 100% OF YOU WOULD RECOMMEND The Outdoors Project to other Parents
THE TOP 2 REASONS YOU BOOK ARE:
- My child wants to attend
- Enthused and energetic staff
(We're very proud that these are the top 2 answers, beating value for money, convenient location...... We love that you appreciate the staff's attitude and that your kids want to attend - that's why we do what we do!)
VALUE FOR MONEY - 91% of you say that The Outdoors Project offer Above Average Value for Money (54% of those said the clubs were Excellent value for money)
HAS ANY MEMBER OF STAFF IMPRESSED YOU?
We are received so many lovely words about our staff;
"ALL of your staff are upbeat, warm and lovely"
"All the staff are excellent. I'm always impressed by their energy and enthusiasm and ability to get the kids motivated even when the weather is dreadful. They're an amazing team."
"All of them are just fantastic"
"Just they are always very polite and happy to help whenever possible"
THE SURVEY HAS HIGHLIGHTED A FEW THINGS WE NEED TO DO / EXPLAIN BETTER ;
MAKING CHANGES TO BOOKINGS?
You'll be pleased to hear we are working on an update so you will be able to make your own date changes / use credit notes. Watch this space!

I CAN'T VIEW MY BOOKINGS & I DON'T GET EMAIL CONFIRMATION FOR MY BOOKINGS
Upon payment of a club our booking system will email you with the details of the club(s) you have booked. Please check you have registered with the email address you view regularly and check your spam! At anytime you can go to MY ACCOUNT and view your bookings.

"THE BOOKING SYSTEM IS CLUNKY, I WANT TO BOOK MORE THAN 1 DATE/CHILD AT A TIME"
We upgraded our system this year so you can now book multiple dates/kids on holiday clubs as outlined below.
1. Click the orange BOOK NOW button on any holiday clubs date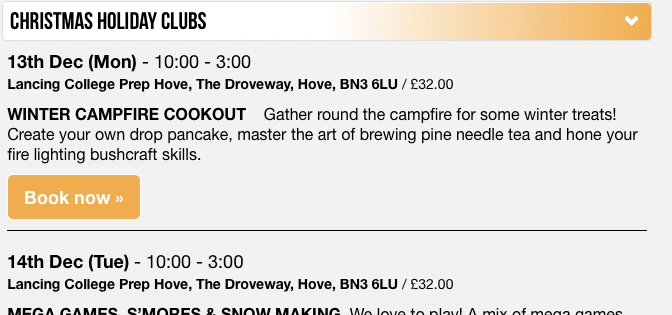 2. Sign into your account or create an account...
3. You will be presented with a booking table showing your chosen date, but also all the holiday clubs dates on sale.
4. You can then choose to add multiple dates & children to your basket & checkout.

BRUNSWICK SCHOOL HOLIDAY CLUB LOCATION
Many of your said Brunswick was your favourite Holiday Club location and expressed disappointment that we did not return to Brunswick School for our most recent Holiday Clubs, we too are disappointed. This was a decision made by the school for us not to return, but we really hope that Brunswick will invite us back for Holiday Clubs in the future. Do feel free to let the school know that you'd like us to return.
If you are looking for a Holiday Club site in Hove, both Lancing Prep (The Droveway) & Cottesmore St Mary School (The Upper Drive) have created a fantastic outdoors learning space alongside their playing fields which we're lucky enough to be able to use during our holiday clubs; an outdoors stage, huge birds nest, outdoors crafting table, fire pit and seating areas, shelter build corner – it's a great space.

HOW DO I TELL YOU WHICH GROUP I WANT MY CHILD TO BE IN AT A HOLIDAY CLUB SO THEY CAN BE IN A GROUP WITH THEIR FRIEND(S)?
We will always try our best to ensure that everyone is happy with their group before commencing a day of outdoor fun!
Once everyone has arrived for Holiday Clubs, the children will be split into their groups for the day. Before we start with our first activities the instructors will introduce themselves, the plan of action for the day, and any relevant safety information. The instructors will then ask the children again if they have any friends at the club they would like to be with for the day, and if they would like to switch groups to be with friends / siblings.

WHY DON'T I GET A SECOND BOOKING CONFIRMATION WHEN I PAY WITH CHILDCARE VOUCHERS?
If you have chosen to pay with childcare vouchers, please ensure you have made payment via your childcare voucher account. You will NOT receive a 2nd confirmation email confirming receipt of the voucher payment.
This is because we deal with many different voucher providers, they all pay us at different times of the month, with different references and there is no automated way to match our bookings system to their payments. We have to do this manually it is not linked to our booking system. We will be in touch if your voucher payment is not received.

CAN YOU RUN HOLIDAY CLUBS FOR LONGER / EXTENDED DAYS?
We do not offer any extended hours at our Holiday clubs. Whilst we know this doesn't suit everyone's work hours, we have experimented with longer days in the past but have settled on 10am- 3pm being the optimum time for the clubs to run and for the kids to have a really fun and engaging day.
As well as the kids being outside in a quite hi energy environment whatever the weather, the instructors are also outdoors onsite early to set up and prep for the day and after the club to pack down and get ready for the next day.
If you have any other questions / comments please GET IN TOUCH