EASTER CLUBS SELLING FAST!
EASTER CLUBS ARE SELLING QUICKLY!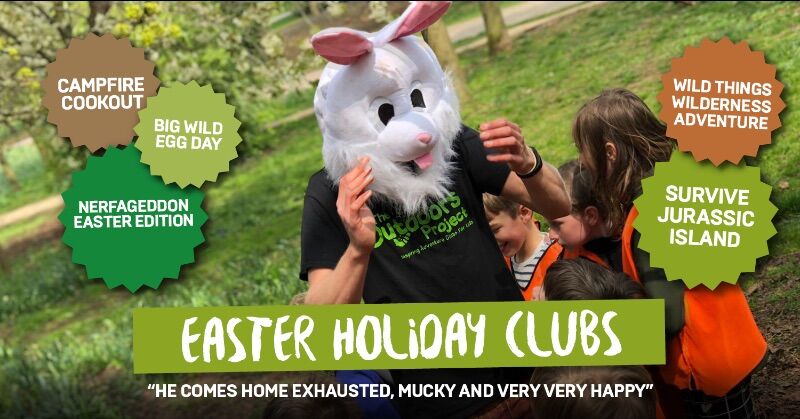 Spring is here! And we're booking up fast!
Thank you to everyone who has booked already. We can't wait to see you little ones for more outdoors fun and games!
We're so eggcited for Easter and we'd love to share a little more info about our new holiday clubs and what activities we have in store...

WHAT HAPPENS WHERE AND WHEN? Find out below..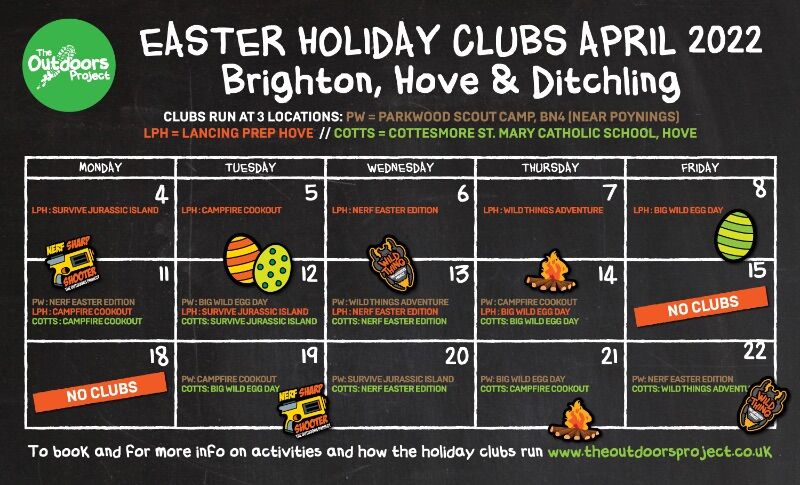 Every day is completely different, with different games and fun each time you come! We love what we do and our wild ones love coming back again and again to learn new skills, make new friends and try out new woodland games!
SURVIVE JURASSIC ISLAND
Meet Bessie. She's got terrible eye sight but her hearing is as sharp as a bat! Approach with caution - can you rescue the eggs from her clutches?
Collect the essential survival tools hidden in the jungle, hunt down the prehistoric predators and collect the Dino eggs without getting caught by the T-Rex! A day of high jinks, stealth skills and daring deeds to survive & forage for what you need to escape the island!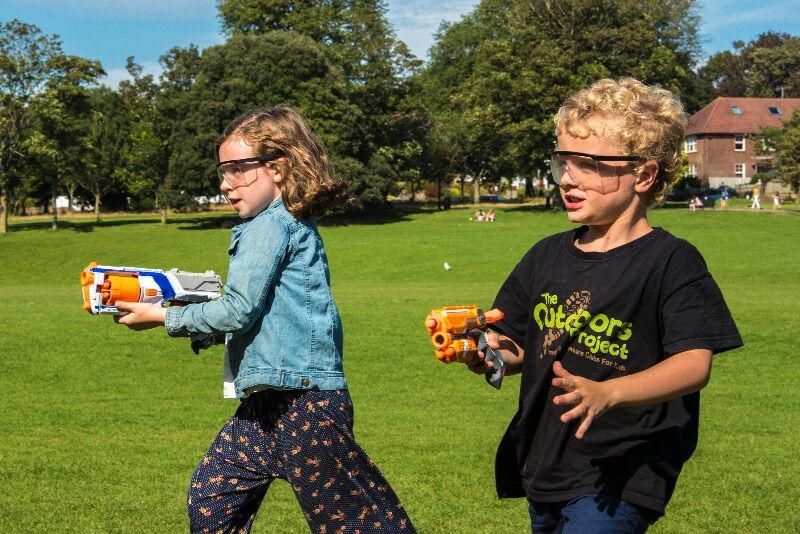 NERFAGEDDON - EASTER EDITION
Meet Three brand new Nerf games for those NERF crazy bunnies out there!
Are you a Bunny Brawler or a Rabbit Raider in our Golden Egg Battle Royal! Then watch out for the BUNNYNATOR "Hasta La Easter Baby!" She's not happy and wants her Chocolate Eggs back!! Follow by the Easter Bunny Rescue - Kids Vs Instructors!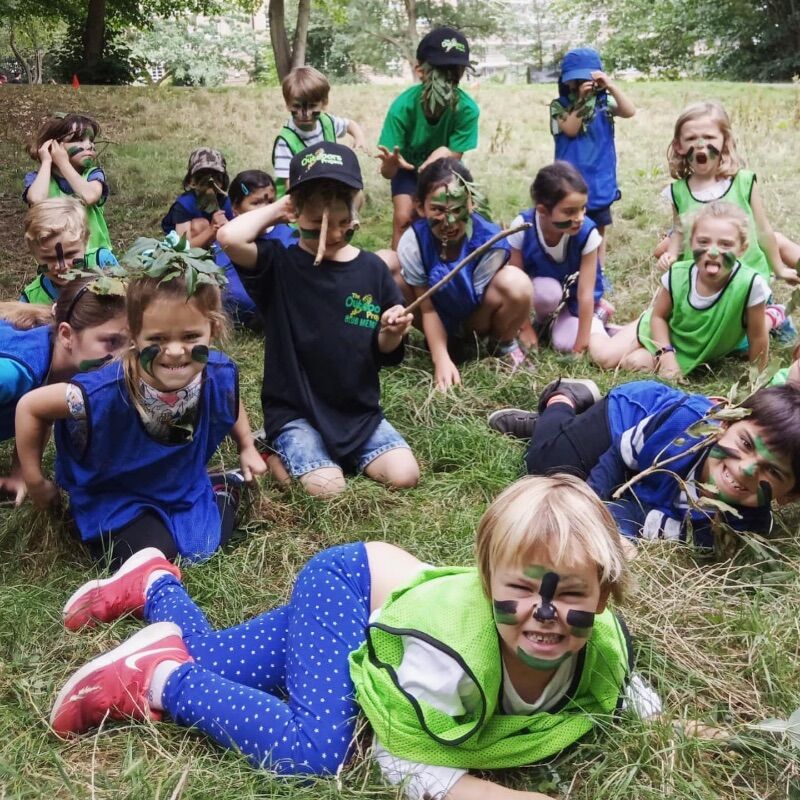 WILD THINGS WILDERNESS ADVENTURE
Meet This is set to be a really special day - tons of imagination and our little patch of wilderness makes for an amazing adventure!
Storytelling, action, sword making, den building, campfires, animal magic, adventure and swamp monsters – All of the good stuff! Based on the wild adventure book "Willow Wildthing and the Swamp Monster" by Gill Lewis – are you brave enough to come into the Wilderness?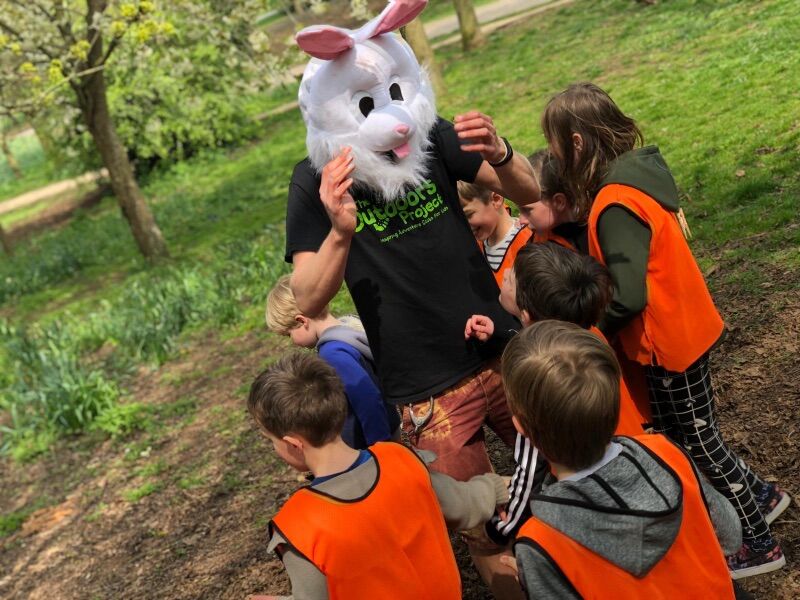 THE BIG WILD EGG DAY
It's not Easter without an egg hunt so ofcourse we've got the BIGGEST treasure hunt yet planned!
One of our favourite days of Eggciting Easter fun with eggsplosive challenges, Spring scavenger hunts & a giant chocolate Easter egg treasure hunt!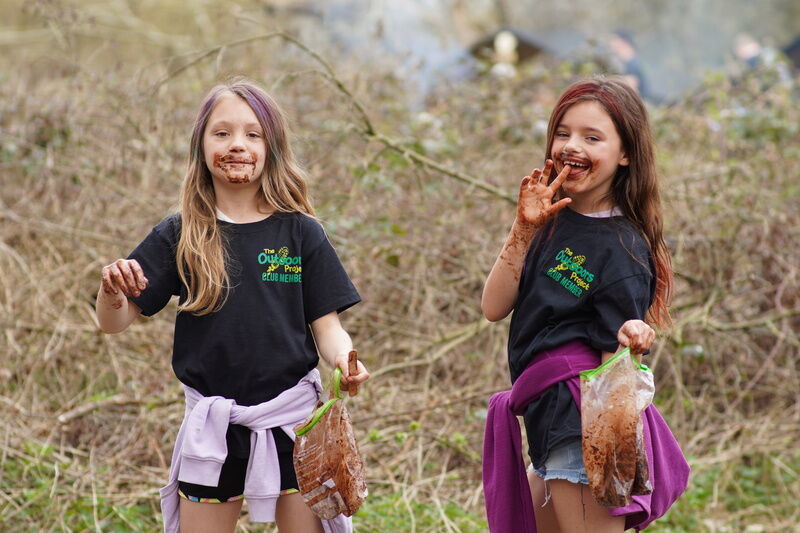 CAMPFIRE COOKOUT
Because being covered in chocolate is the best part of Easter, right?
Gather around the campfire for Hot Cross Bun toasting. Make your own batch of Armpit Mini Egg Crush fudge and toast a marshmallow or two with plenty of energetic adventure games and woodland fun this Easter.

Still spaces for our Summer Term After School Clubs...

SUMMER AFTER SCHOOL CLUBS
APRIL - JULY 2022
New activities for spring term 2022 include:
NERF WATER GAMES * BUSHCRAFT TINDER PILING * WILD THINGS CAMP CRAFTING* MURAL PAINT BLASTING* NATURE NINJA BUGS HUNTS & HERB POTS * NERF BUNNY BRAWLER * CAMPFIRE MARSHMALLOWS, TRICKS & RIDDLES & Tonnes of games + the key ingredient lots of FUN!