"This is our go-to holiday club now. No screens, just good fun in nature"
How would you plan your perfect weekend?
The sun is shining; your plan is to make a picnic, head to the nearest park or beach and be outdoors together but the kids have other ideas. They want to head into a darkened room to watch cartoons or game with their friends. This is a battle all parents have faced at some point and it's one that makes our hearts sink a little. We flashback to our own childhoods, freedom to roam, no internet at all, let alone social media to contend with, children's TV on four channels that had a start and finish time. Nothing was so easily available on-demand.
We know how important being outdoors is for our own mental health and want to encourage our children to see this importance too, so how can we reach a balance between old and new? What is the best approach to gaming and technology as a parent? The balancing act between trying to set time limits on their various screens, asking them to get off when we want them to and juggling with our inner guilt that deep down, we know that things have changed and we don't really like it much, is very hard.
"My 7 year old daughter adores The Outdoors Project it's the best combination of all the 'screen stuff' (Minecraft/Harry Potter/etc.) she thinks are important, with the outdoors games & skills that she loves! All the staff are fantastic & really build kids confidence to explore, have fun & be kids"
MEET YOU HALF WAY? Using tech in a positive way...
To us, it makes sense to listen to whatever the children are currently interested in and bring this into some of the clubs we offer.
In the past, we've created days based on Pokemon, Star Wars, Fortnite, Minecraft, Super Mario, Harry Potter, Among Us & Percy Jackson. All designed for the screen lovers within us - we aren't against it - instead showing even the most enthused gamer that the two worlds between nature and screens can collide. We intend to bridge the gap between the online games or TV shows they might be familiar with and the outdoors, by converting the virtual aspects of the shows or games to 'real-life' - feeding their desire for being curious, creative & having real interactions.
Very often a child will first attend our clubs for a tech meets nature day and have such a fun time they'll return in future whatever the activity.
"The Outdoors Project offers outstanding & 'alternative' activities for children. The team cater for children's fundamental needs to run around, make noise and let off steam. I can't say enough good things about how they have met my wild child's needs... goodbye screen time, hello wonderful world!"
Is it really bushcraft if we use modern day tech fads? Very occasionally there will be a comment from what we would call a hardcore bushcrafter or forest school leader saying that Minecraft or Nerf has nothing to do with the outdoors. Why would we set boundaries for fun or outdoor experiences? Why do children have to follow imaginary rules set by adults. We see using tech such as computer games, films, cartoons or modern-day toys like Nerf blasters as a great hook for kids to get outdoors and in the fresh air without even thinking about the action of this.
The main aim has always been simple to us, to get outside all year round, not hibernate and just have fun.
"It's childcare during the holidays they want to go to!"
Here are two examples of activities we have ran:
Minecraft Village Build, Element Hunt & The Creeper Game: Minecraft meets Wildcraft in our survivor challenge. Collect your elements, build & maintain your village, learning to work as a team & understand your environment. Earn reward pixels & protect your land & villagers. Oh... and watch out for the Creeper!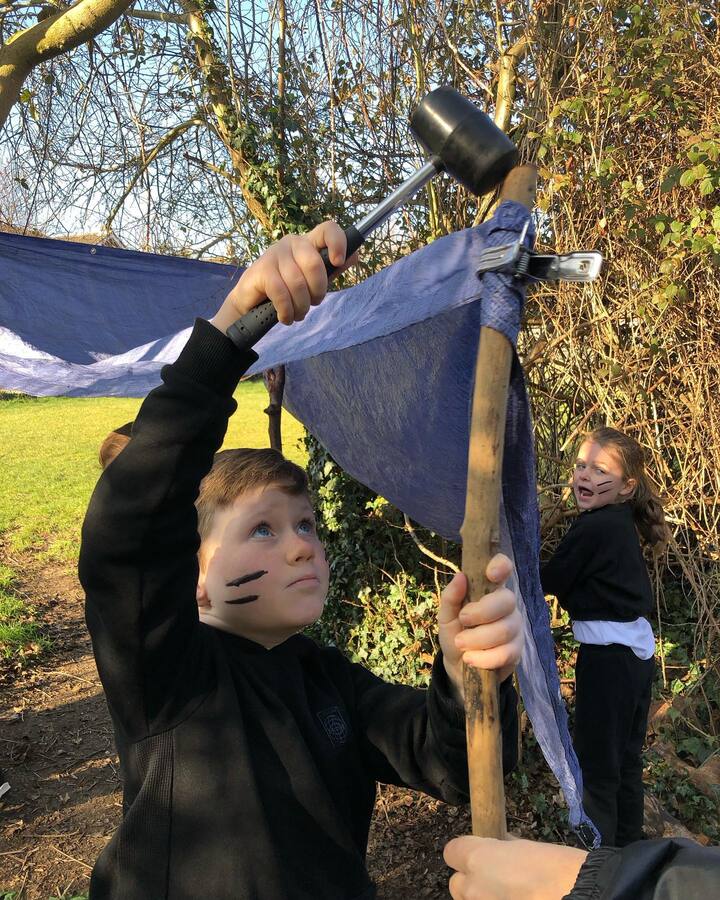 Super Mario Day – Yoshi Eggs & Bowser's Fury: Iinspired by our favourite Italian plumber, Mario & friends. The kids will build their very own Yoshi Egg, play 'Bowser's Fury' & take on the Super Star Cornhole Challenge, as we take a positive, outdoor spin on technology use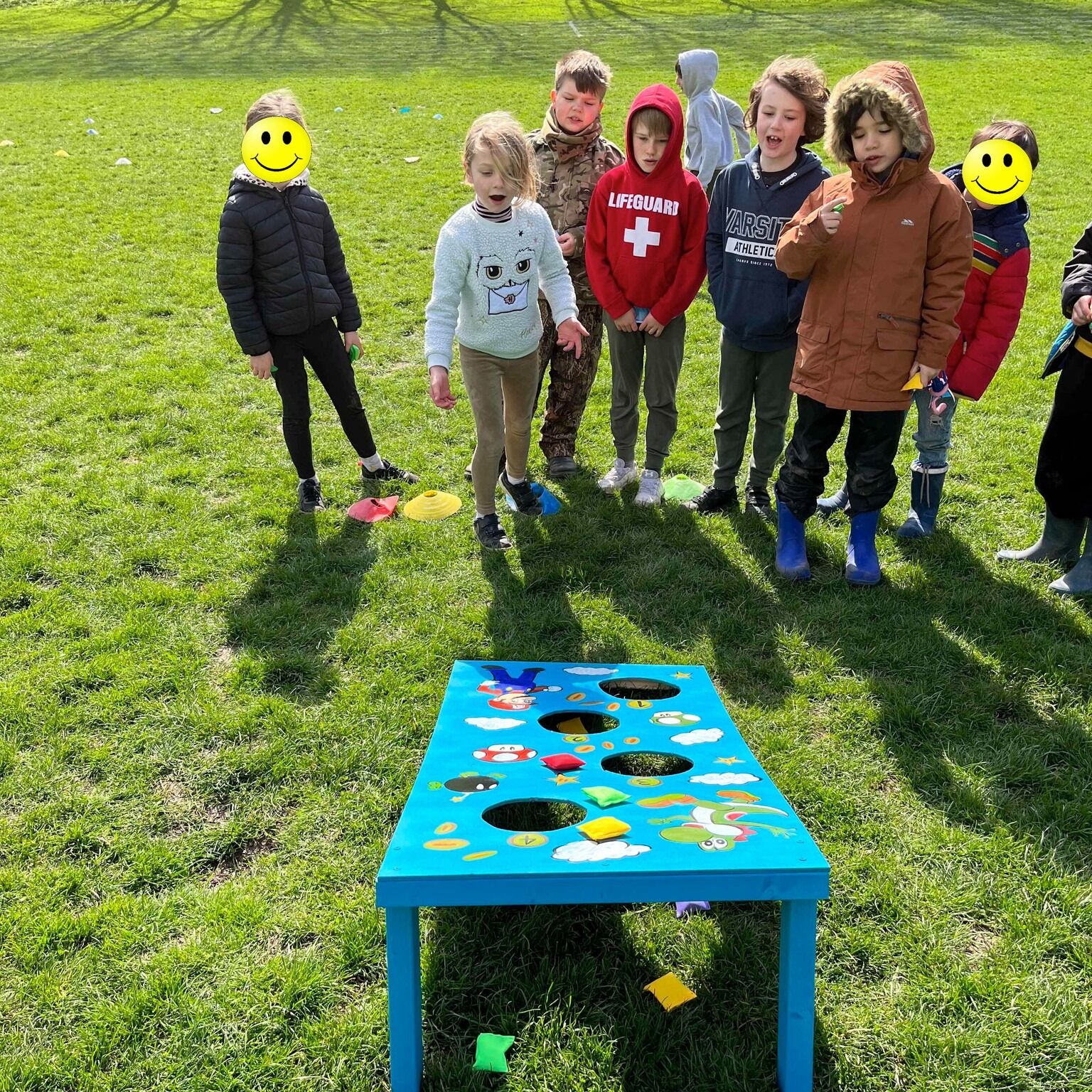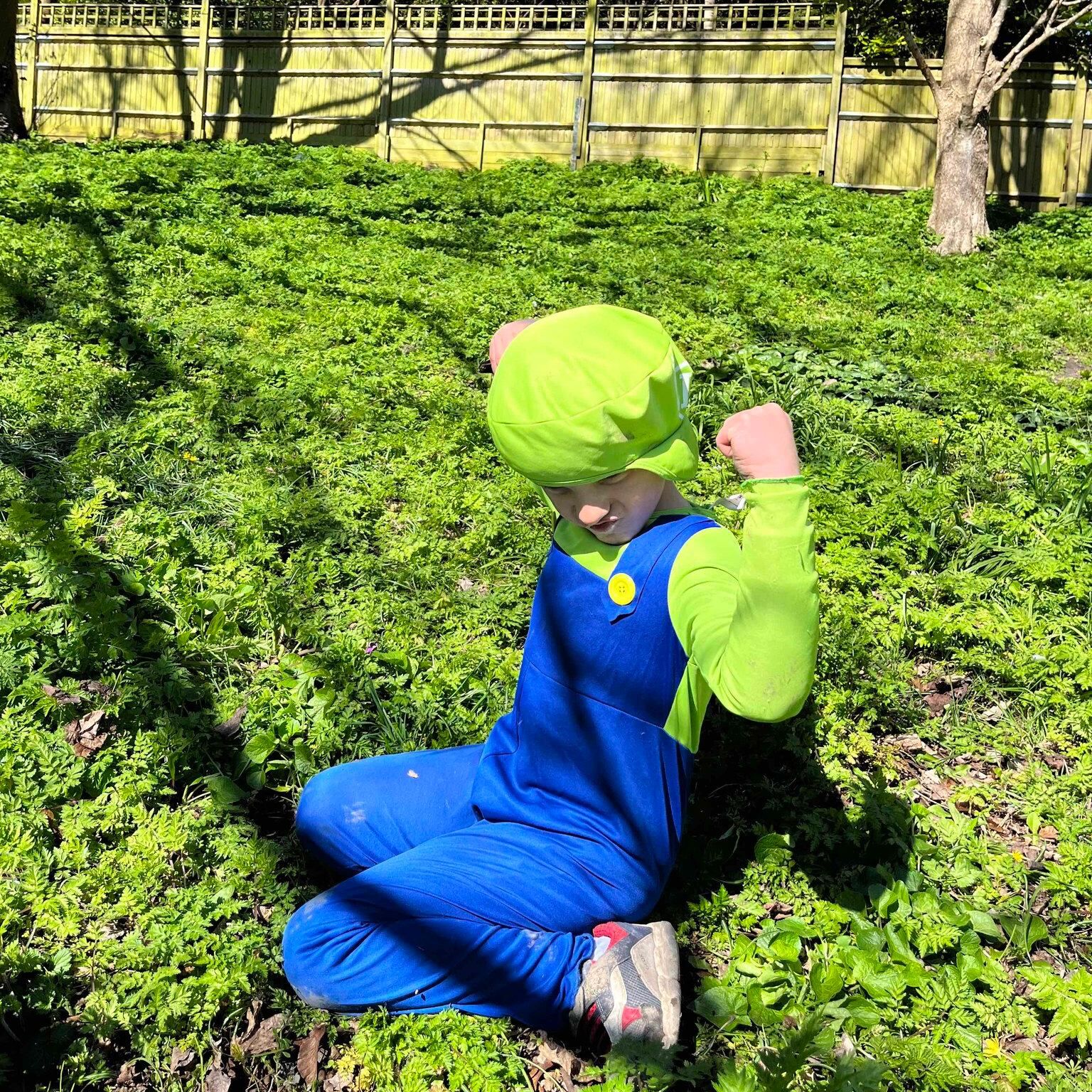 "My ten year old son loved Mandalorian Nerf. I dropped him off a bored, tubby, screen obsessed pre teen, picked him up 5 hours later a chatty, sweaty, freckled boy, full of the day's joys!"
"How happy and centred my kids are after a session. They love being outside, playing team games and building things. Time away from screens and helping children to communicate"
"Imaginative play; connection with current interests and trends which really engages the children; practical skills; that it's outdoors, and exercise; contact with nature; the 'simple things'... The staff are really cool and fun".