Camera Challenge - Fun stuff to do
Camera Challenge
Hey kids, we've got a fun challenge you can do during a walk around your local area. All you need is a camera and the great outdoors! Photography is a fun way to add some excitement to a trip outdoors and experience nature in a different way. You can create lasting memories to share with friends and it's also a chance to practise your photography skills!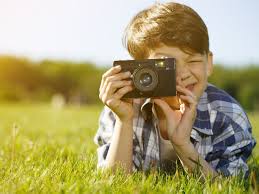 WHAT YOU WILL NEED:

- Camera - Phones will do nicely or you can experiment with digital, film or instant cameras to practise your photography skills. Just remember to ask permission and take good care of it!

WHAT TO DO:
- Using the list below try find each one and take a picture
- Take your time, you can spread the challenges out over multiple walks and you can even make up your own! Get inventive and see what's out there.
Photo Challenge:
1. Flower
2. Animal Tracks
3. Fungi
4. An animal outdoors
5. A bird in flight
6. A sunset
7. Someone smiling
8. Act out a scene from your favourite Movie (Send it in & we'll try and guess which one!)
9. The best cloud - (Tell us what it looks like!)
10. A Spiders Web
11. An animals home
12. A feather
13. Something Red
14. Something Purple
15. Someone hugging a tree
16. Playing in water (Animal or Person)
17. Climbing a tree (Safely)
18. Outdoors Art
19. Something silly
20. Something frosty

SAFETY:
Camera's are great fun but they can also be distracting so make sure to stay focused and aware of your surrounds when using them. Never get too close if there are dangers such as open water, roads or heights. Also be sure to ask permission if you are taking photos of people or their pets.