Easter Holiday Clubs 2023 - now on sale

EASTER 2023 HOLIDAY CLUBS
Easter Egg Hunts, Hot Cross Buns & more eggs. Here's what we have planned for this Easter holiday:
Hot Cross Buns, Armpit Fudge & Marshmallows: Our Easter Edition of Campfire Cookout is here as we make our own batch of armpit mini egg crush fudge and gather around the campfire for hot cross bun and marshmallow toasting. Mixed with plenty of energetic adventure games as well as teaching the kids about fire safety when cooking
Easter Nerf – The Bunnynator & Kids Vs Instructors: Nerf games for those NERF crazy bunnies out there! Developing their teamwork, the kids will have to watch out for the Bunnynator as she's wants her chocolate eggs back, play our Golden Egg Battle Royal and the Easter Bunny Rescue – Kids Vs Instructors! "Hasta La Easter Baby!"
NEW – Super Mario Day – Yoshi Eggs & Bowsers Fury: Our BRAND-NEW theme, inspired by our favourite Italian plumber Mario & friends. The kids will build their very own Yoshi Egg, play 'Bowsers Fury' and take on the Super Star Cornhole Challenge as we take a positive, outdoor spin on technology use
The Big Wild Egg Day: Welcome to our Big Wild Egg Day. The kids will be having some eggciting easter fun with our eggsplosive egg drop challenge, a spring scavenger hunt to help them explore and understand nature and of course a giant chocolate easter egg hunt!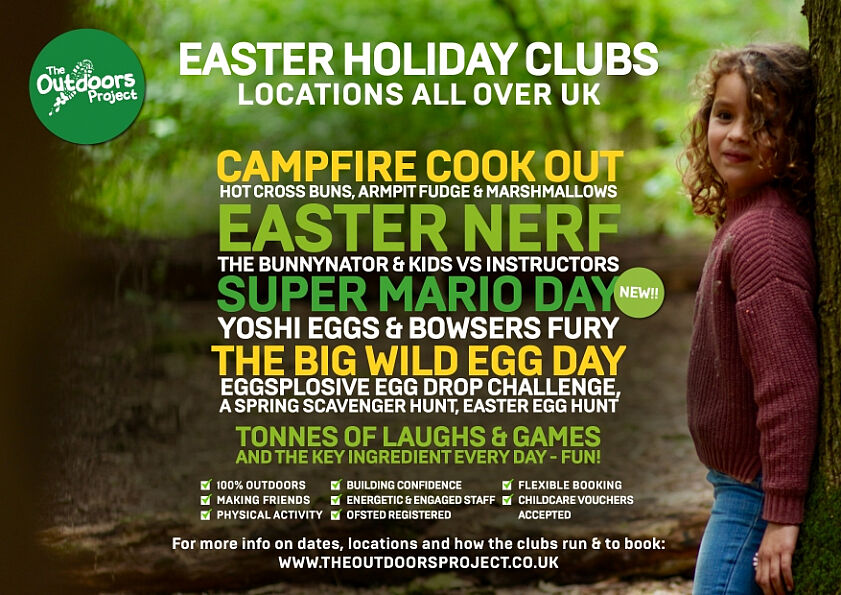 When: Every weekday through the Easter holidays, excluding bank holidays
Age: 5 to 11 (primary school age)
Full info on what is offered in your area (activity schedule, prices & bookings), click on your nearest location on our homepage
To see what our holiday clubs are all about (what to wear, what to pack, what to expect), read this!
Remember to stay signed up to our newsletter to be the first to hear when new clubs go on sale (and for the best pics from our clubs!)