Christmas holiday clubs - Brighton & Hove - on sale!
Christmas holiday clubs 2022 - Brighton & Hove
We've just had word from the north pole that Santa & his elves have pulled their knitted Christmas socks up and are going to make this the most fun & jolly festive period we've had for a long time! We're getting ready for his visit here and have planned lots of fun & games to celebrate the winter festive period. Have a look at our schedule and activities below.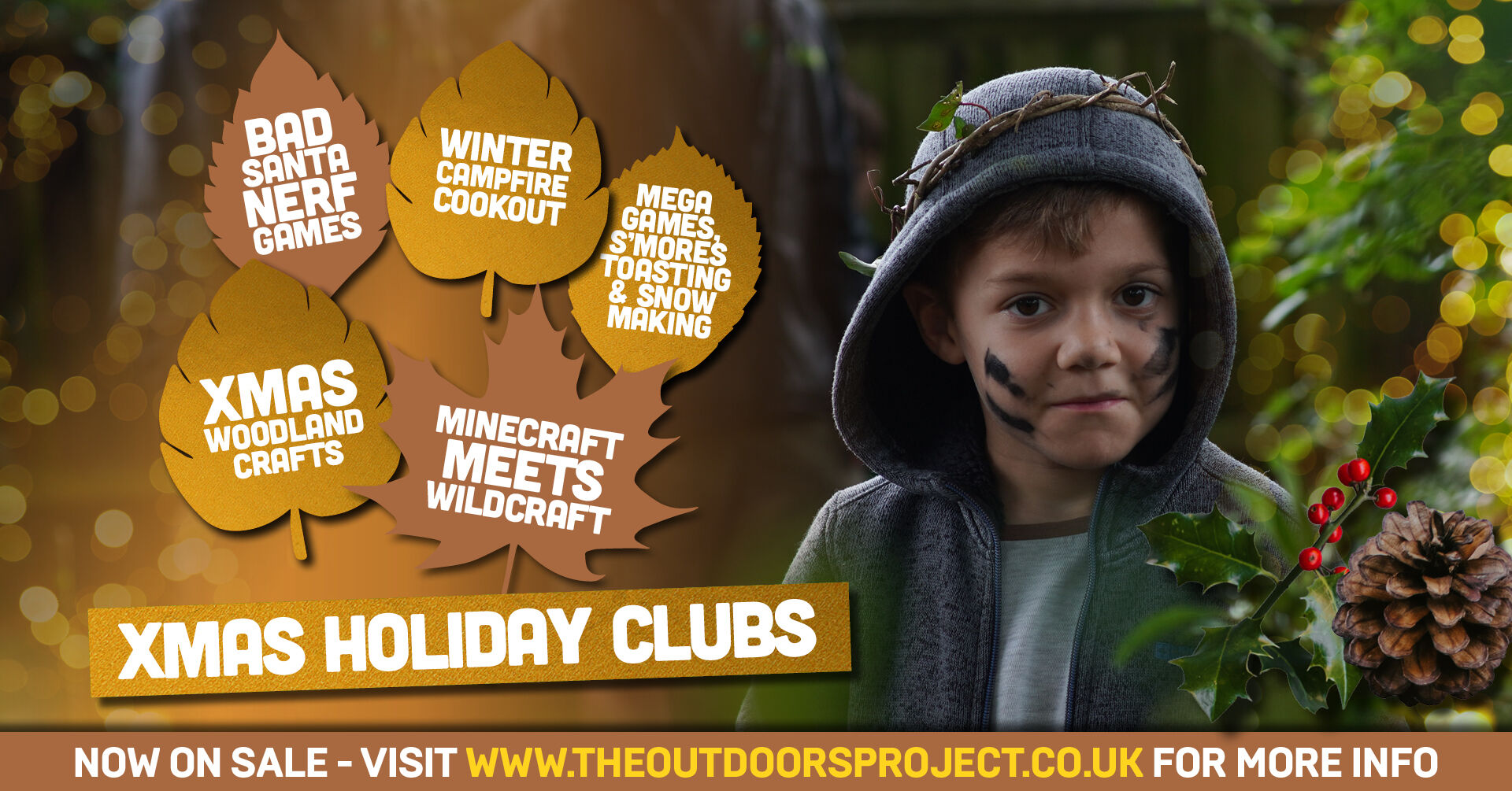 WHAT ARE THE ACTIVITIES?
Bad Santa Nerf Games
There's an imposter dressed as Santa and he's out to steal Christmas! Better load up & save our stockings! Join us for an energetic day of Nerf dart dodging, playing tactical & team-based Nerf games. (Due to the more competitive nature of this day, age 6+ is recommended).
Chrirstmas Woodland Crafts
Christmas is around the corner! Today we'll be crafting woodland lanterns to light our winter way, candy cane hunting for our favourite treats & wax dipping natural bunting for your Christmas tree. Lots of outdoors fun & crafts!
Mega Games, Marshmallow S'Mores Toasting & Snow Making
We love to play! A mix of mega games, woodland adventure & wild time! It's what we're famous for! Toast s'mores around the campfire to recharge between mega play time, and make 'snow' balls to take home
Minecraft meets Wildcraft
Minecraft survivor challenge. Build & maintain your village using bushcraft equipment; collect all the elements; earn reward pixels & protect your land & villagers from the Creeper!
Winter Campfire Cookout
Gather around the campfire for some winter treats! Create your own drop pancake, master the art of brewing pine needle tea, & hone your bushcraft fire lighting skills
Spaces are limited. Booking is available now. We recommend booking early to avoid disappointment - our clubs do sell out! Remember, if you're unsure whether you can make it, you can book now and then cancel up to one week before the club's start date to receive your full payment back as credit on your account.
Where?
- Lancing Prep (Hove), BN3 6LU
- Cottesmore St Mary's School (Hove), BN3 6NB
When?
- Monday 12th - Friday 16th December @ Lancing Prep Hove (independent school holiday dates)
- Monday 19th - Thursday 22nd December @ Cottesmore St Mary's
Who?
- Ages 5 (Year 1) to 11
Why?
A whole lotta fun, learn new skills, get outside & away from screens, build confidence, make new friends, get in the festive spirit!
For the full information of what to expect at our holiday clubs, have a look here: https://www.theoutdoorsproject.co.uk/brighton/holiday-clubs-details/
Other queries might have already been answered here: https://www.theoutdoorsproject.co.uk/faqs/
Otherwise, please see 'contact details' to get in touch with us by email or phone - https://www.theoutdoorsproject.co.uk/contact-us/