Weekend Clubs in Brighton
Join the gang for Outdoors Fun at the Weekend
We are now offering fun childcare on Saturdays! We can now incorporate birthday parties during these sessions too so come celebrate with friends!
Our Weekend Clubs currently run on a Saturday at Brunswick Primary School in Brighton & Hove.
These sessions will be just like our Brighton & Hove Holiday Club days; with something different every week with children maintained in bubbles of 15 children in line with Covid 19 guidelines. We'll make sure they're with their friends for the day.
Our Saturday Club location has large playing fields for games, wooded areas, marquees for shelter and of course we have loads of activities planned each day to keep the kids entertained! With all the essentials set up like handwashing stations, a club Portaloo, places to sit for lunch and we will be 100% outside in the fresh air all day.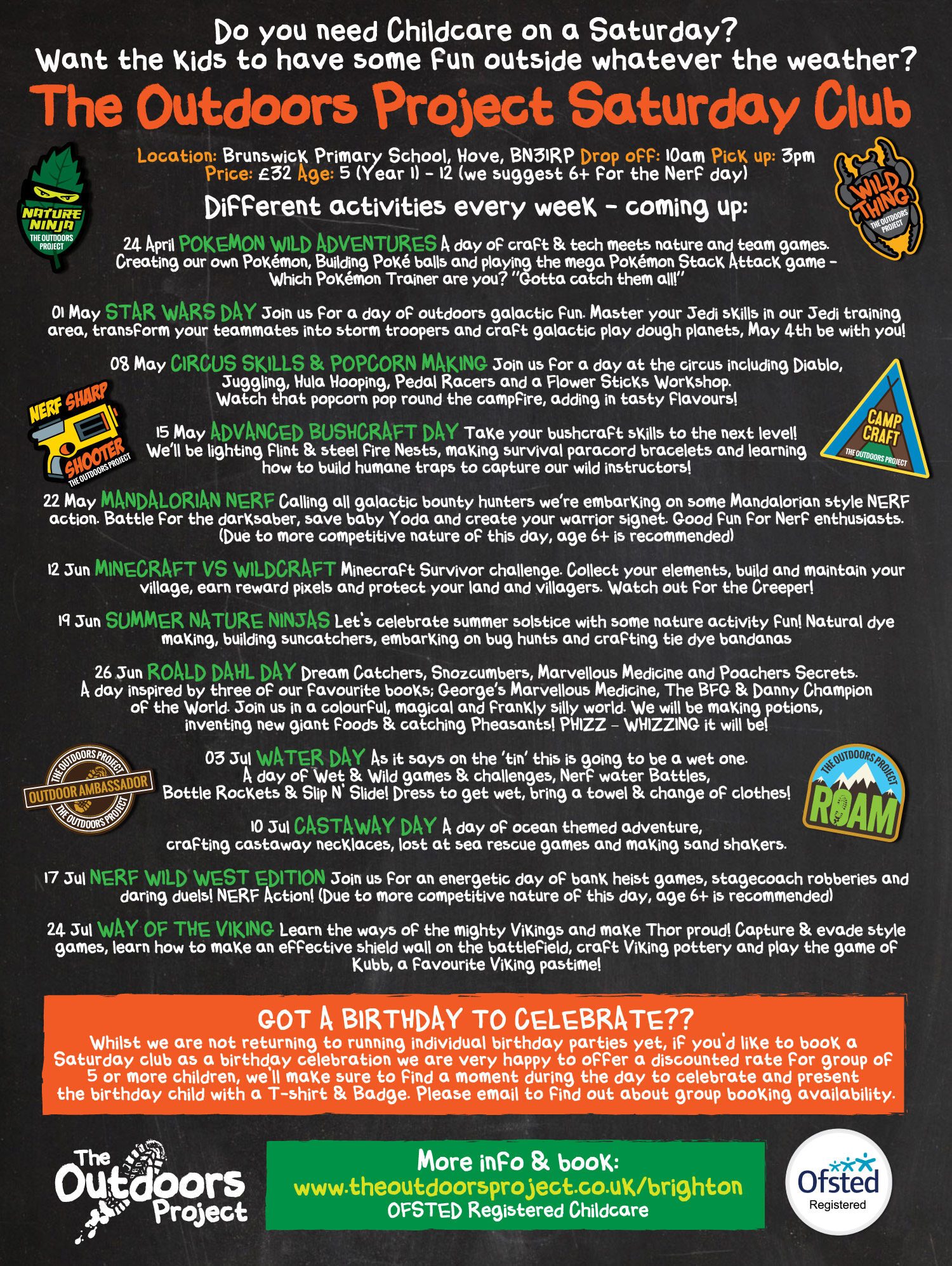 All activities are designed to be fun, light hearted and engaging with the aim of kids enjoying their time outdoors, learning something new, expressing themselves and releasing energy from a busy week.
Birthday Parties
Got a birthday to celebrate? We haven't been able to run any parties for ages but are now able to incorporate Birthday parties within our new Saturday Clubs.
We can currently take 15 children in a bubble so you can book an entire group bubble for the day if you wish or if a smaller group we will ensure the birthday party is placed in one bubble together with other children.
The birthday party will enjoy a range of activities planned for the day together and during the day we will make sure to celebrate a "birthday moment" where we'll get the birthday kids up for a happy birthday song from the whole club and present them with their Outdoors Project goodie bag which consists of a ODP club tshirt and their choice of one of our unique collectible patches.
Discount of 15 for Group bookings of 5+ please email to make a group booking.