Nottingham West summer holiday clubs in and around Nottinghamshire and Derbyshire!
Preparations are in full swing for our summer holiday club! We just can't wait to kick off with our 5 week summer holiday schedule.
Some parents have asked, "what do the kids do all day?"
We are always creating and developing new games, making sure every day is different and enticing to all personalities. Each day is presented with a theme. Each theme day is carefully planned (and most of the times tested on my own offspring) beforehand keeping in mind our main goal which is to have fun!
Our sessions are divided into 3 main sections with breaks in between. We work in small groups with one instructor who will stay with them throughout the day. Children can stay with siblings or friends if they request.
We do understand how difficult it is nowadays to get the kids away from screens and this is where our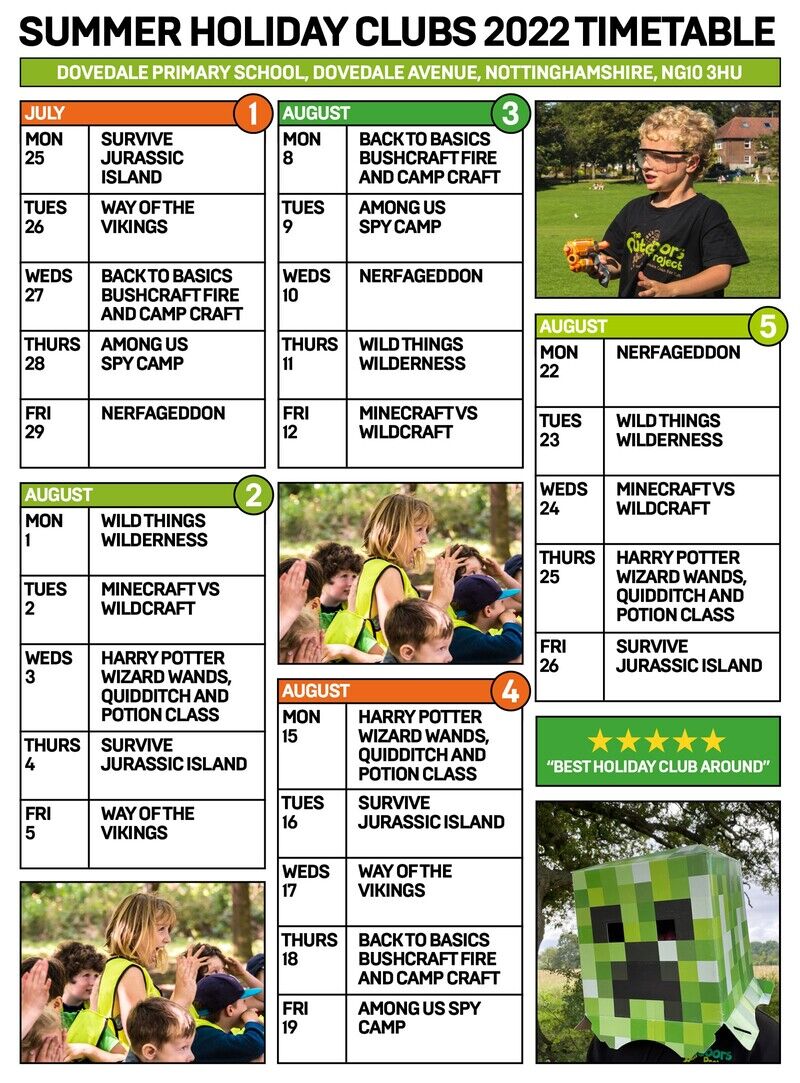 tech days come in. We have Minecraft and Among Us theme days where elements of the game are brought to life. But are they still learning things? Of course! Children who come to our clubs are going to leave with something new every time. Building dens, making fire, survival skills are some of them. Children will also learn teamwork, determination, problem solving on our NERF days, creativity, imagination and literature on Wild Thing Wilderness and Harry Potter day. History and general knowledge on Way of the Vikings and Survive Jurassic Island.
To read more about our holiday clubs click here.
As a new business, bringing new and exciting activities in the area, we understand kids can be shy and reluctant to try us out, especially if they're coming by themselves. Therefore, we decided to sign up for a few community days out to bring a taster to the kids.
Where are we going to be?
2nd July – Our Own OPEN DAY at Dovecote Lane Recreational Ground, NG9 1HG. We will be playing NERF activities and finish off with a NERF battle. This event is by bookings only and is currently fully booked, however one can still put their names down on the waiting list, you never know, someone might drop out.
9th July – Sawley Park Community Fun Day in Sawley. We will have a stall and will be running free activities all afternoon.
Is this all that we do?
There is more! We also offer birthday parties in the outdoors! Bushcraft parties, NERF parties, Harry Potter and Minecraft parties are our main ones however we have Pokemon themed parties and lots more. Contact us if you want to know more about our parties here.
Here are what some of the parents had to say about us:
"My son has now been to three holiday club days. Twice in Easter and then once in May. Both times he has had a fantastic time and the staff have been lovely. He struggles with new things but loves being outsides. Vicky wanted to understand my sons needs so he felt welcomed and settled. We will definitely be using this club regularly going forward." - Emily G
"Our 6 year old son loved the Star Wars day on Monday during May half term. He didn't stop talking about his day, how he made his own planet, made friends and played nerf games. He can't wait to go again. The day was certainly a hit for him and the first holiday club he wanted to go back the following day. He will certainly see you in the summer!" - Victoria R
"My two children aged 7 and 11 attended the Club at Dovedale long Eaton. The lady running the group was soo friendly and helpful. My son has anxiety and doesn't like to doing new thing so was a little nervous before he got there. But when I picked them up I could tell straight away that they had had the best time. It was Star Wars day so he was dressed as a storm trooper that they had made out of card board which was really creative. They both couldn't wait to tell me all the exciting things they had done especially the nerf game with baby yoda. A brilliant day would recommend this club absolutely fantastic" - Jennifer S