ROAM Club Member T-shirts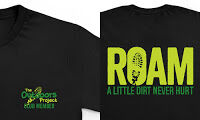 Our ROAM club member T-shirts are great for creating that relaxed, "the school day's over, lets run around and play outdoors" feeling! They are worn by many of our members to afterschool and holiday clubs. They're perfect to get muddy and messy in!
Throughout the term your child will earn patches and the club t-shirts are great for sewing these onto. For more information on the patches and rewards please click HERE.
Our instructors all wear ROAM uniform too, so it creates a nice 'part of the club' feeling for kids.
The t-shirts are completely optional and can be purchased any time during term.
Cost:
£15
How to purchase:
Add the t-shirt to your basket when making a booking. The shirt will given directly to your child at the afterschool club or holiday club.
You can still purchase a t-shirt mid term or after you've booked your child's place. Just contact us directly and we can arange it. Same if you would like to arrange to pick the t-shirt up from our office directly.
What are the sizes?
We have youth sizes S, M & L available. The instructor will have a couple of sizes to choose from for best fit. If you choose a size and discover it isn't the best fit then just contact us and we'll happy exchange sizes the following time your child is at the club.
Remember - A little dirt never hurt!
"My 7 year old daughter adores Outdoors Project! People have said to me she seems such a different person when she is in the woods / outdoors covered in mud! She is at home! Outdoors project is the best combination of all the 'screen stuff' (minecraft / harry potter etc etc) she thinks are important with the outdoors games and skills that she loves! Having got her club member t shirt this half term all she can say is ' A little dirt never hurt' .... as she rolls in a muddy puddle and proudly tells me she got to sit in mud today! All the staff are fantastic and really build kids confidence to explore and have fun, be kids - without worrying!" (Johanne S)