ROAM Club Member T-shirts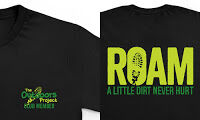 Our ROAM club member T-shirts are great for creating that relaxed, 'the school day's over, let's run around and play outdoors' feeling! They're worn by many of our members to after school and holiday clubs. They're perfect to get muddy and messy in!
Throughout the term, your child will earn patches, and the club T-shirts are great for sewing these patches on to (see 'related news stories' for more information about patches).
Our instructors all wear ROAM uniform too, so it creates a nice 'part of the club' feeling for kids.
The T-shirts are completely optional!
Sizes: Youth sizes S, M or L
Price: £15
Delivery or Collection:
- Delivery: If your child attends an after school club, we can deliver the T-shirt via the club. Or we can drop it off with them at an upcoming holiday club
- Collection: You can collect it from our office
How can I get one? Send your request to info@theoutdoorsproject.co.uk, including the size, delivery/collection preferences and which of our locations in the UK is nearest to you. We'll confirm the order and take payment.
If you choose a size and discover it isn't the best fit, let us know and we'll be happy to exchange it for another size.
Remember - A little dirt never hurt!
"My 7 year old daughter adores Outdoors Project! People have said to me she seems such a different person when she is in the woods/outdoors covered in mud! She is at home! Having got her club member t shirt this half term, all she can say is 'A little dirt never hurt'. All the staff are fantastic and really build kids confidence to explore, have fun, & be kids - without worrying!" (Johanne)