Stamp cards - our reward & loyalty card - what is it?
CLUB CARDS + PATCHES
A loyalty card / reward card will be given to each member when they attend a club or party with us. Each time your child attends a club, they receive a stamp. These are rewarded for all sorts, from displaying qualities such as listening, kindness, helpfulness & teamwork, or just generally being involved and having fun. Once your child reaches 10 points they have earnt a patch!
Our embroidered patches are iron-on, but we do suggest sewing them on for extra security, especially in all weather outdoor action!
WHY WE DO IT
At clubs, there's so much fun to be had, skills to learn and games to play, that it's hard to remember it all! So it's a really rewarding experience for the kids to be able to trade in points they have earnt from each session, for a bright & colourful patch to show off what they've been doing. For some of our members, the patches are a huge part of being in the clubs and something they really look forward to collecting. For some, they are just a nice little bonus to having a good time outdoors with friends. Everyone is different and we love that!
What if we lose the card? Don't worry! Life is busy and things get lost or forgotten. We can easily replace the card and figure out how many stamps your child is on. If it's forgotten at one session, then just bring it in another week and the leader will make sure any missed stamps are accounted for.
Remember, it's all just for fun and we want members to enjoy earning their patches with us, showing off all the outdoors fun they're having!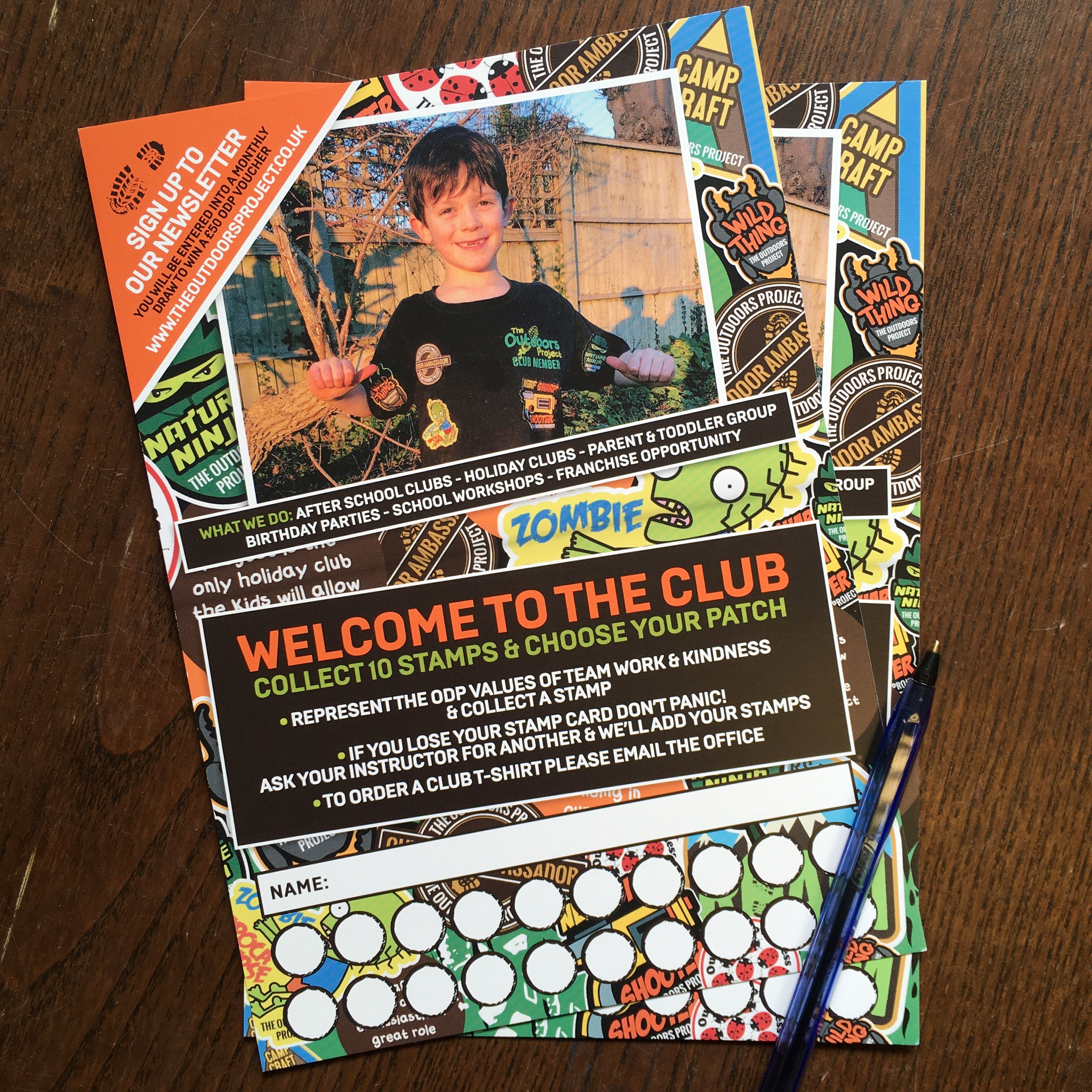 PATCH DESIGN COMPETITION
On our to do list this term is to create our Series 3 of club patches. Can you help?
Your design can be based on any of your outdoors experiences, activities, adventure, nature, skills you've learned... Send as many as you like!
TOP DESIGN TIPS: Keep the design simple / 5 colours max
The chosen design(s) will go into production & used in our clubs across the nation! The designer will WIN £200 OUTDOORS PROJECT VOUCHERS!
HOW TO ENTER your design(s):
1) Draw your design
2) Take a photo & email to info@theoutdoorsproject.co.uk with your name/school & contact details included.